As a freshman living in the dorm at University of Nebraska Lincoln (UNL), David Petersen said "Yes" when his resident assistant came by his room and asked if he would like to be in a Navigators Bible study. It turned out that all the other students who said "Yes" to that same Bible study were students from Rwanda. So, at the start of his college years, David already connected with the international student community at UNL, especially the Rwandans.
God had uniquely prepared David for this experience, as his father is a missions pastor, and growing up he heard about God's heart for unreached people and connected with people from around the world in their home.
In his subsequent years of college, David had a heart to build relationships with international students. He gathered some leaders from among the international students who wanted to grow in their faith and reach out to other international students, as a particular focus area within the larger Navigators Collegiate ministry at UNL. They called their leadership team Rev7, based on Revelation 7:9-10 which affirms that people from every nation, tribe, people, and language will be gathered to worship God.
Now David continues this ministry of equipping disciplemakers among international students as he serves on EDGE Corps (a two-year internship) as part of the Navigators Collegiate staff team at UNL.
Joyful Transformation
When Pamela came to UNL in 2019, she had a church background from growing up in Rwanda, but through Life-to-Life® discipleship, including joining with other Navigators for Bible study, prayer, and everyday life, her relationship with Jesus flourished.
She describes how God transformed her life:
I grew up in church although I never really understood the gospel in my childhood. I was like a pharisee—I knew the Word of God and was striving daily to fulfill the law, with a total disregard for the person of Christ and my relationship with Him. I joined a Navigators Bible study here at UNL and I realized that there is more to God than what I had always been taught. I saw that there is more than obedience and following the written law, which led me to understand the grace of God. This is no truth that I have learned that is sweeter than that.
My spiritual life has grown to be very different from what it has ever been. I experienced a closeness to God that surpasses what I had ever imagined possible. He gave me a family in Christ that I would not trade for anything and the relationship that I have with Christ in the moment is hard to describe. I believe that I have a calling on my life to be sent and to work in the fields of the Lord.
At the start of her sophomore year, Pamela joined the Joshua Team, a young leader development program of Navigators Collegiate at UNL. She continues to be eager to grow in her faith and help others grow as well. Recently several of the Rwandan women, including Pamela, have started getting together to pray every night. This prayer time is a response to their joy in the Lord and delight in His grace for their lives.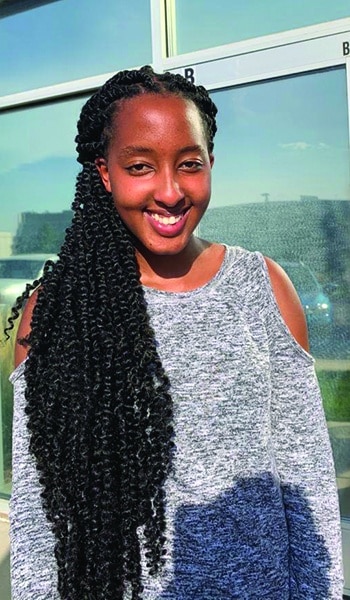 From Friendship to Faith
Clement, also from Rwanda, met David as soon as he arrived on campus four years ago. They became friends and David learned more about Clement's faith journey. His mom was a believer in Jesus and his family went to church until she died when Clement was seven years old. Then he didn't have any faith connection until he attended a Catholic high school. The mass and prayers were compulsory at school, but he had no desire to know God or follow Him.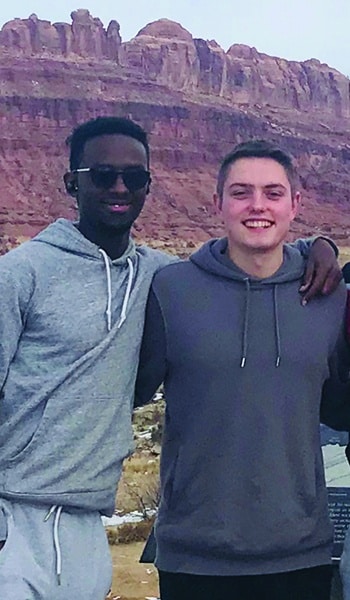 Clement (left) and David (Right)
As their friendship grew, David kept inviting Clement to come to Bible study, and Clement kept making up excuses for not coming. Finally, wanting to honor his friendship with David, Clement decided to give Bible study a try. Then he and David started meeting together for one-on-one Bible discussions. Clement was impressed by the grace that God offers, rather than having to reach God through good works to be saved. During his sophomore year, Clement attended the Main Event, a regional Navigators conference, and decided that he wanted to follow Jesus as a disciple.
The following year, Clement started leading a Bible study with freshmen from Rwanda and investing in the next generation of disciples. Now two of these underclassmen are growing in their desire to make God known to their friends. They have started an online Bible study to share the truth of Jesus with their high school friends who are scattered around the world, in Rwanda, Canada, and other countries.
Each year the Rwandan government sends 50 freshmen to UNL. The students are required to live in the dorm for all four years of their undergraduate season. With strong leadership from Rwandan students involved in Navigators, those arriving each year have the opportunity to learn more about Jesus and be invited to follow Him, in addition to their academic growth.
---
Pray for the Nations 
While the ministry among Rwandans flourishes as UNL, there are also many other international students on campus. Often students from countries restrictive to the gospel have little understanding of Jesus because of their background. So those serving international students have a dual emphasis—to disciple and equip those who already know Jesus, while building friendships and sharing the Good News with those who don't yet have any context for faith.
PRAY:
• Pray that those who come from unreached nations to UNL would hear the gospel and respond. 

• Pray for lifelong disciplemakers, who will be fruitful in college and throughout their lives. The righteous will flourish … they will still bear fruit in old age. Psalm 92:12-15

•  Pray that students from UNL will have a willingness to follow God's call to different parts of the world, to unreached people groups. The harvest is plentiful, but the workers are few. Ask the Lord of the harvest, therefore, to send out workers into his harvest field. Matthew 9:37-38