How one sousaphone player from Penn State is impacting the next generation one note at a time.
Last fall, Navigator Dan Mulley began meeting with a bold young music education major named Caleb. Preparing to launch a Bible study in the sousaphone (large brass tuba that wraps around its player) section of the prestigious Penn State Blue Band, Caleb was on a mission.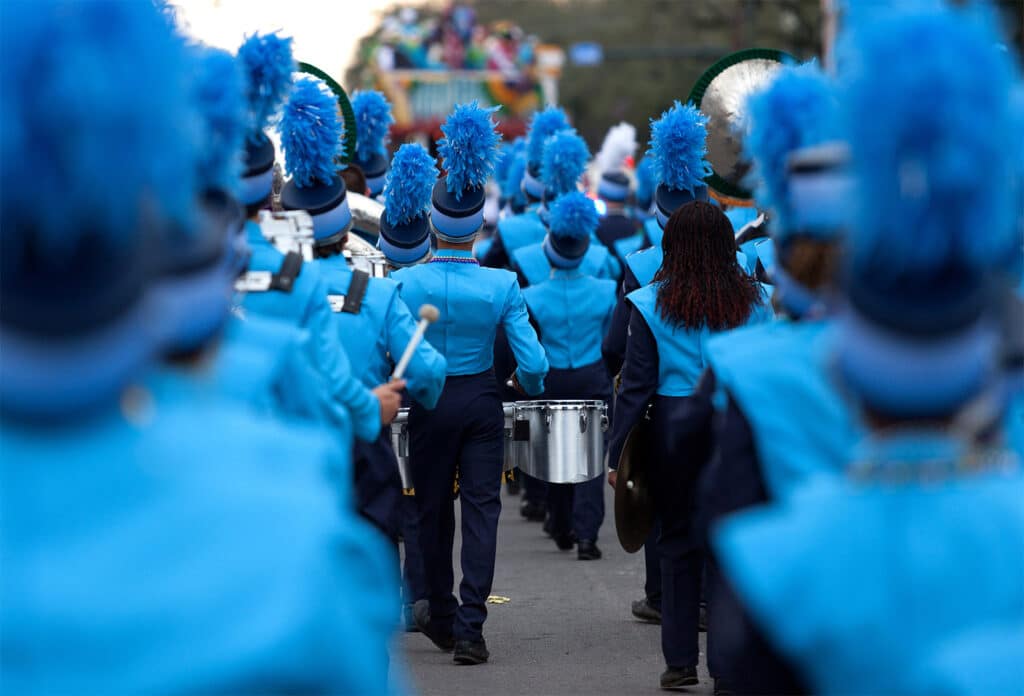 "Caleb had given his life to Jesus just before college and wanted to reach out to his friends in the band as he started his sophomore year," Dan says. "I distinctly remember praying with Caleb in the cafe next to the music building for 15 people to join his 10:10 team [a student group committed to growing in God's abundant life together, derived from John 10:10—'The thief comes only to steal and kill and destroy; I have come that they may have life, and have it to the full.'] Over the course of the year, he and his co-leader sought to show God's love to the band through volunteering, spending time with students on the fringes, and inviting everyone they knew from band to study the Bible with them. God blessed their efforts, and slowly, busy band members began showing up on their only free evening of the week."
Caleb says the study started out with about three people, essentially quintupling in size by the end of last year.
"I've seen many of my friends change and grow as children of Christ through these times, and I've also seen some non-Christians express interest because they can see the bond that we experience in our team," Caleb says.
Dan is proud of how Caleb has stepped up and made himself available for God's use.
"Caleb is quiet, but bold," Dan says. "He is intentional in his relationships and choices. He is a faithful and committed disciple."  
That faithful commitment rooted in Christ spreads to all areas of Caleb's life, and inspires him to serve and to intentionally pass on what he's learned.
"When he joined, Caleb approached the band director and asked how he could serve the band," Dan says. "He volunteered for cleanup duty after the football games when he was not required to do so. It really seems like his willingness to love and serve others opened the door for him to invite them into the study. The study has been really consistent, and Caleb is now seeking to train one of the younger guys to replace him when he leaves campus to student teach next winter."
Dan knows God will continue to lead and to answer prayer.
"A few weeks ago, Caleb looked up during lunch and said, 'Guess what? I handed out my 15th Bible study booklet last week,'" Dan says. "We were both humbled and thankful to see how God had answered the prayer we prayed a year beforehand."
Life-to-Life® discipleship (growing in Christ and helping others do the same through reading the Bible, spending time in prayer, and walking through everyday life with someone) has propelled Caleb in his studies, his ministry, and his own personal growth.
"I believe in Life-to-Life discipleship because we all need someone to encourage us and process with us when we step out in faith," Dan says. "It was scary for me when I first began reaching out to students at Penn State, and I'm sure it was scary for Caleb, too. It was great to be able to walk with him and share my own experience of feeling unequipped and a little awkward, then watching God use me in ways I never would have guessed. Seeing Him do that same thing through Caleb has been awesome. I think we all need someone in our lives to remind us that God is faithful, and that He will be with us as we step out into the scary unknown."
Caleb says that encouragement has left an indelible mark.
"Dan has impacted my life tremendously," Caleb says. "He has stretched me in so many areas. It's been incredible to watch what we pray for happen before our eyes, and to have someone in my corner when spiritual battles get tough. Someone who was at first just a mentor is now a great friend."
Thank you for making it possible for staff like Dan to encourage and empower students like Caleb, and for praying for our nation's college campuses. Please pray for students to have a bold faith and that the gospel of hope would spread across college campuses.