When James and Sheryl Helms bought their home in Northeast Portland, they never imagined they would still be living there 15 years later.
They bought the house as a business decision, without even seeing it. At the time, James was finishing up his military service in Germany and he planned to fix up the house and flip it as a money-making venture. When they arrived in Portland, they lived in the house while he cleaned it up, he also started school, and Sheryl continued her work as a nurse. The moment to make money on the house passed in a market downturn.
About the same time, James connected with some Navigators and started taking what he was studying in the Bible seriously in his daily life. This process transformed his perspective on life in his neighborhood and helped him see that God had a purpose in how he and his family were present in their home.
One of James' entrepreneurial ventures is a coffee roasting business, selling through farmers' markets in the area. Early in 2020, he was preparing to create a mobile espresso bar for markets and events, and then the pandemic hit. The markets were still open, with restrictions, but an espresso bar wasn't going to work in that setting.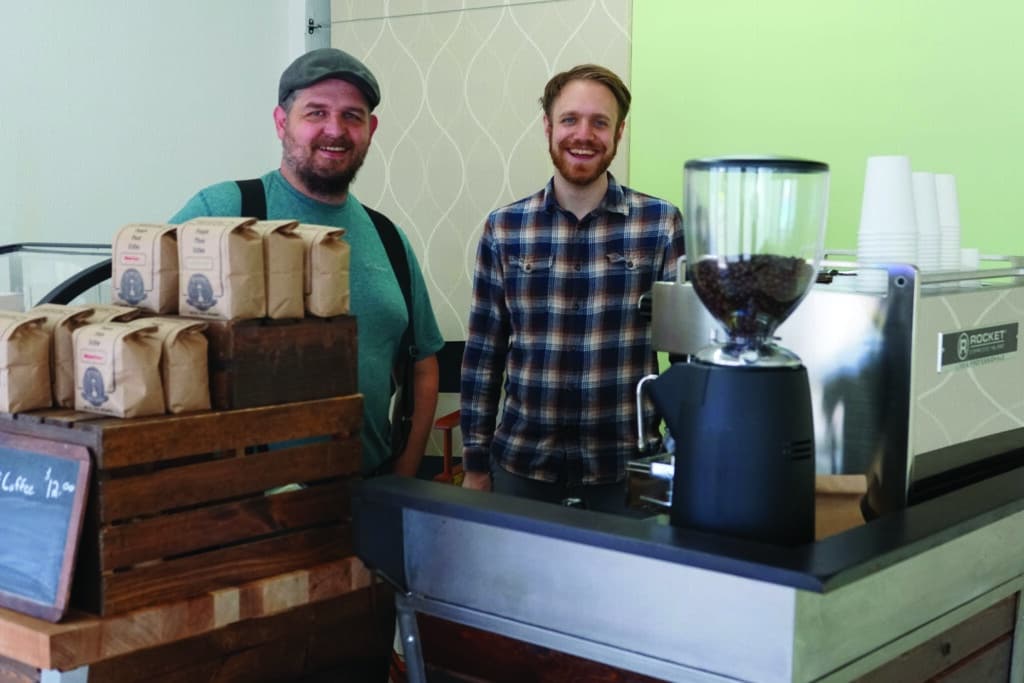 Eyes to See the Place
While Portland has many thriving neighborhoods, the area near their home was neglected and overlooked, not flourishing. "Two blocks from my house is a little ratty looking retail storefront," James says. "The kind of derelict building where you have to be careful not to step on heroin needles, trash, or human feces. The parking lot across the street from the storefront is mostly vacant and a target for graffiti or dumping trash. My neighborhood is a place that is messy, often desecrated, and forgotten. A place that many people have abandoned. I asked myself, 'If God is active everywhere, all the time … what is He doing here?'"
James looked around his neighborhood for unused space to rent for the espresso bar since he already had the equipment. He decided to call the Pentecostal church that rented space in the ratty storefront. The church had gathered there for many years, as part of the largest African American denomination in the United States. While they wanted to invest in the community around the church, they hadn't found a way to put that hope into action. The space was unused except for Sundays, and during the pandemic, they were not meeting in person at all.
Once James connected with the pastor of the church, which was having trouble paying their rent due to the pandemic, the coffee shop plan moved quickly. Starting small, his family and a few partners cleared half the space, built a simple partition, and moved the equipment into the shop. They decided to be open Monday through Saturday to leave space for the church once they start meeting in person again. Within three weeks, they opened for business.
Weaving Hopes and Dreams Together
They didn't plan a big grand opening because they didn't want to put neighbors at risk in the midst of the pandemic. But since James has been active in the neighborhood, word spread through relational networks, and on opening day a socially distanced line of people extended into the parking lot. Over time neighbors showed up with gifts welcoming the espresso bar into the community, including plants, flowers, and art. People were coming for a good cup of coffee, but also for more—for a place to connect and build community.
Over time, regulars have invested in the place and the people. During a conversation with one neighborhood regular, James mentioned that he was thinking about building a cork board for people to post their "hopes and dreams." Soon, this man built the board and mounted it on the wall of the coffee shop. Now it serves as a visible reminder, inviting people to hope and dream for their neighborhood, to work together to create community.
On any given day, James is also weaving people together. "The coffee shop is thick with relational possibilities," he says. "I may see two people in the shop who don't know each other, but I know that they have shared interests, so I make the introduction and help them connect. I try to make time to pause and join into conversations. For example, I will sit and talk with the Monday morning group of construction guys who come before work, and sometimes the conversations turn to spiritual topics. One regular told me recently, 'I have a counselor, but you are my other guy.'"
Looking Forward
The coffee shop business has grown month-over-month since they opened, with most of the customers coming from the neighborhood. Since the purpose of opening the coffee shop wasn't just to have a coffee shop, but to provide a relational space, James and his partners are thinking beyond the day-to-day.
"We are seeing this place being made new, redeemed," James says. "Now we have a space in the neighborhood where people feel comfortable to create and share life together. We are making improvements in the rest of the space which will benefit the church when they start meeting again, with a stage and improved flooring. But we also hope that this space can become more of a community hub when we can be more open to gatherings of people."
Praise God that He is alive and active, even in "forgotten" corners of our cities. Pray that relationships and community networks will continue to grow, in neighborhoods around the country, pointing people to the hope of Jesus for their everyday lives.

Look around your own neighborhood or town. Where are the connecting points? Are there neglected corners? How might God want to use you in His redemptive process with the people and place He has you for this season?