Jason Robinson's ministry "sweet spot" is wherever athletic life happens.
"For as long as I can remember, sports had been a way I have been able to build meaningful relationships," Jason says. "The day after I said 'yes' to the call to full-time ministry, I met a campus missionary who shared his story of how basketball had become a platform to build relationships that not only bridged racial divides but earned him the right to share the gospel."
That night, Jason shared dinner with the missionary and his wife.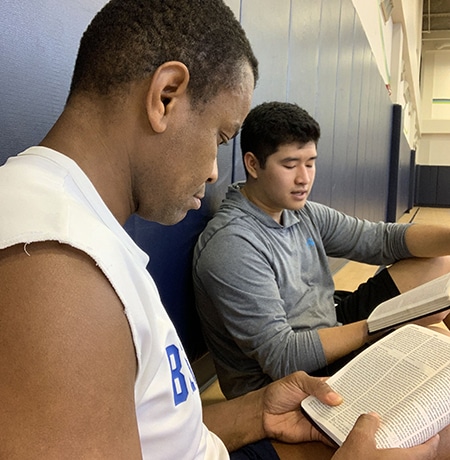 "We talked extensively about disciplemaking, racial reconciliation, and sports outreach," Jason says. "He invited me to serve and study with him at The University of Alabama. He introduced me to the fellas at the campus recreation center. He charged me with the task of making the rec my mission field on the campus. I accepted the charge and have been trying to live it out for the last 26 years working for The Navigators!"
Jason has always had a heart for athletes.
"Some of life's greatest lessons can be learned through sports," Jason says. "The disciplemaking and evangelistic ministry that has come to be known as The SportMentor was started in 1994 out of a personal calling to fulfill the mission of 2 Timothy 2:2 to make disciplemakers. Over the years, we've seen non-believers become believers and believers grow in their relationship with the Lord."
The ministry operates under the principle Jason calls "iron-sharpening," rooted in Proverbs 27:17, with men sharpening each other as iron sharpens iron.
"It is the Life-to-Life® discipleship relationship that sets the stage to earn the right to be an influencer in a person's life," Jason says. "With athletes, that is best achieved by engaging in competition. At the University of Minnesota where I serve now, I spend a significant amount of time at the recreation center. I get to engage with students through playing pick-up basketball or by working out with them in the gym. When they find out that this 49-year-old guy can keep up with them and occasionally put down a few dunks, it opens the opportunity to get to know them better. I usually offer to meet up with them again to play more pick-up, do a skills workout, or trade some dunks. I have been doing this for many years and the relationships that have developed have been incredible."
"Social media has become a powerful tool that has allowed me to mentor young men across the globe," Jason says. "When I accepted the invitation to join Navigators Collegiate at the University of Minnesota, it was an exciting opportunity to take the ministry of sports back to a college campus. The SportMentor is a part of my Navigator ministry on campus, and God has been gracious to give the ministry a national and global reach over the last several years to multiply the disciplemaking through mentoring athletes and building leaders."
Jason had just started his new adventure on campus in January of 2020, just two months before COVID-19 arrived in the U.S.
"Overnight, we were forced to shift to an online ministry," Jason says. "By March 2020, I had established regular one-to-one meetings with eight students. I feared I would lose ground on these relationships when we couldn't meet face-to-face. God showed up and my fears were not realized."
Jason asked each of the guys if they would be interested in continuing to meet virtually. All but one of them said yes.
"This allowed our relationships to go deeper quicker, now that we didn't have basketball to serve as an icebreaker," Jason says. "Once we were able to get back on campus in the fall, the solid foundations built during quarantine paved the way to the formation of a small group based on our shared love for basketball. Our group spends two hours a week together, playing basketball and then having a 'chop session' where we work through a faith-based book written by Tim Tebow." 
Pick-up games aren't currently possible, but Jason meets with his guys for whatever athletic activity he can.
"During these individual sessions, the students have been open about their feelings and views on the craziness that surrounds us in the world today," Jason says. "I have been able to engage in relevant conversations ranging from dealing with racism to knowing your purpose in life."
God continues to pursue all His children, on and off the court.
In your own life, pray that God would show you what your "ministry sweet spot" is, and how to walk in it.