In 2015, Navigators Joe and Joy Maschhoff moved their young family to the Dominican Republic to launch a new Navigator ministry. They had no local connections, only a strong belief that the Caribbean was where God wanted them to be. Like any Navigator, Joe was looking for people to disciple—people who would become disciplemakers themselves. Then he met a spiritually hungry young man named Anthony at a men's conference.
Joe invited Anthony to study the Bible with him, helping him to grow deeper in Christ.
"We have been at it ever since," Joe says. "When he married Gleni 18 months ago, Anthony introduced his wife to my wife and they began to meet in Life-to-Life™ discipleship as well. Anthony and Gleni have both been hungry and receptive. Anthony wanted everything I had—to know how to walk with God and invest in others."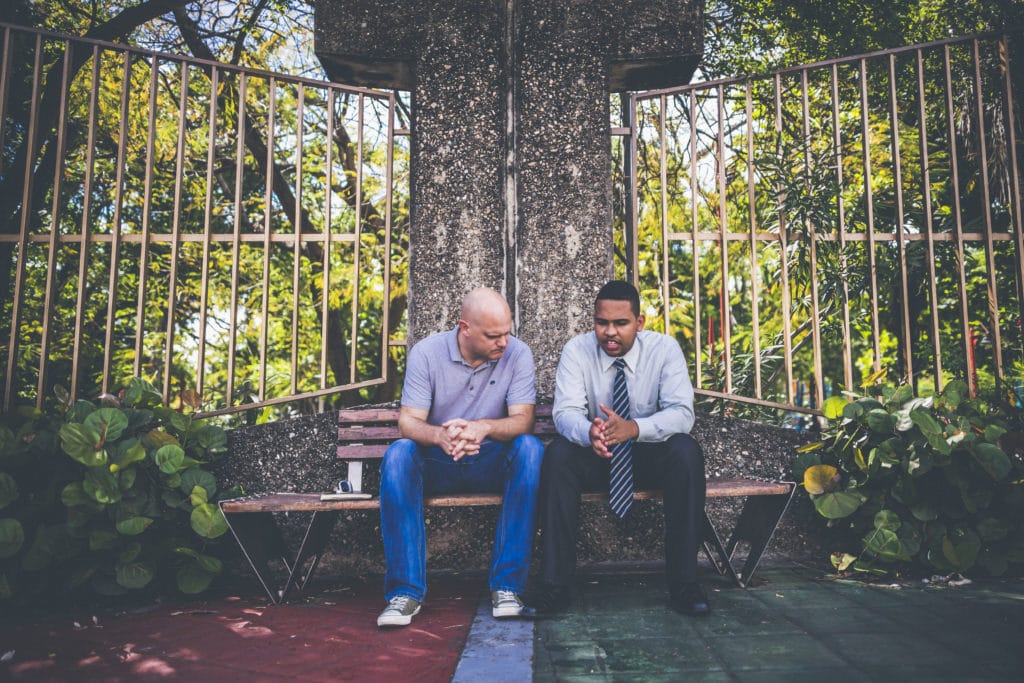 Anthony spent his childhood living in a home of sticks with a dirt floor, sponsored for many years through Compassion International. Compassion was a huge blessing in his life, getting him into school and providing for many basic needs.
"Compassion gave him a biblical foundation and kept him alive," Joe says. "The Navigators has given him discipleship training to build on that foundation."
Joe helped him study the Bible, cultivate a vibrant prayer life, and taught him how to invite others into the Scriptures. Through their friendship, Anthony also developed a long-term vision for his life—to make patient, wise, decisions that would lead his family into wholeness.
Anthony is already passing these gifts to the next spiritual generation, leading some of his friends to Christ and beginning to disciple them.
"Just a couple months ago Anthony told me he 'helped Jesús meet Jesus'," Joe says. "He helped this coworker read the Bible and led him to Christ! He's led a few other coworkers to Christ too! He is naturally reaching out. He is also a constant light to his family. He's made it to stability, and his family is taking notice. I'm sure it's going to continue bearing fruit."
This urge to reach the lost all around him overflows from Anthony's deep love for Jesus.
"He is my Savior," Anthony says. "My way to live and think is based on His command, and I have a big commitment with His work. Jesus means all for me."
As Anthony looks to his future, he sees discipleship as both lifestyle and life-calling.
"Anthony really likes the idea of being a significant part of the future of The Navigators in the Dominican Republic," Joe says. "He just loves what we do, and he wants to be part of the future.
He's a leader. Anybody in my role would be excited about that. People who will take the work and lead it forward."
At its heart, Joe and Anthony's story is about relationship, and the eternal impact it makes.
"My relationship with Joe can be described as a relationship with a father, a friend, or a brother," Anthony says. "Since we met, we knew that God had a plan to unite us. Biblical studies, advice, and friendship have forged a good bond between us. My wife and I are grateful for our spiritual growth and our growth as a couple. We are blessed with Joe and his family."
Anthony has impacted Joe just as deeply.
"I have learned so much from Anthony," Joe says. "It has been symbiotic . . . . God has taught me so much through this connection with Anthony and his wife. I am praying that God will help Anthony to soar higher and go farther in the D.R. than I ever could!"
Please pray for Navigators serving internationally that God would continue to work in and through their lives to share the gospel and help others like Anthony and his wife to become disciplemakers.