Since playing basketball in high school and college, Travon Jones (Tra) dreamed of a professional career with the NBA. He spent a lot of time training and participating in multiple tryouts for professional basketball teams both in the U.S. and overseas.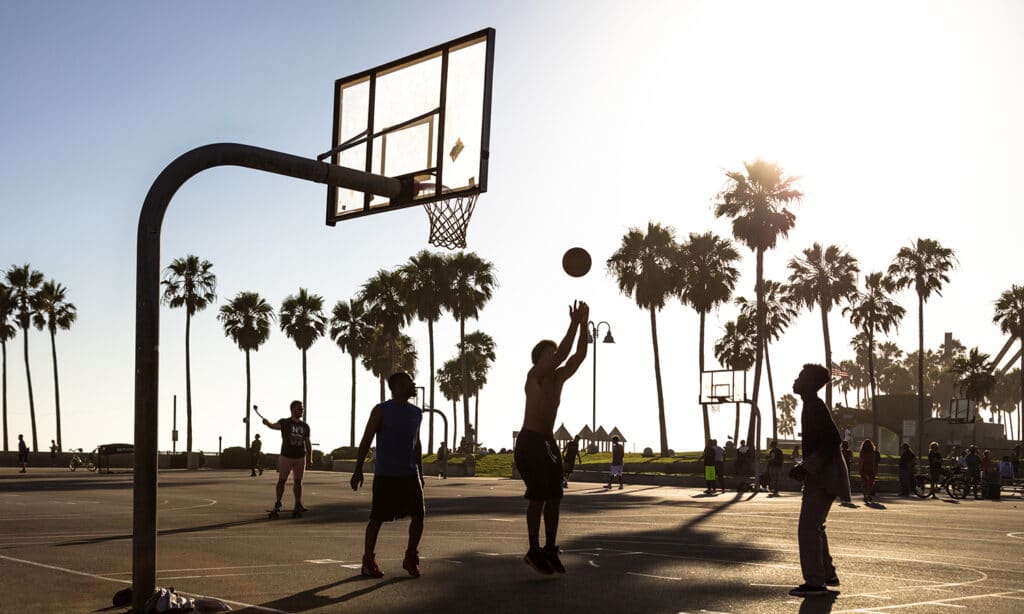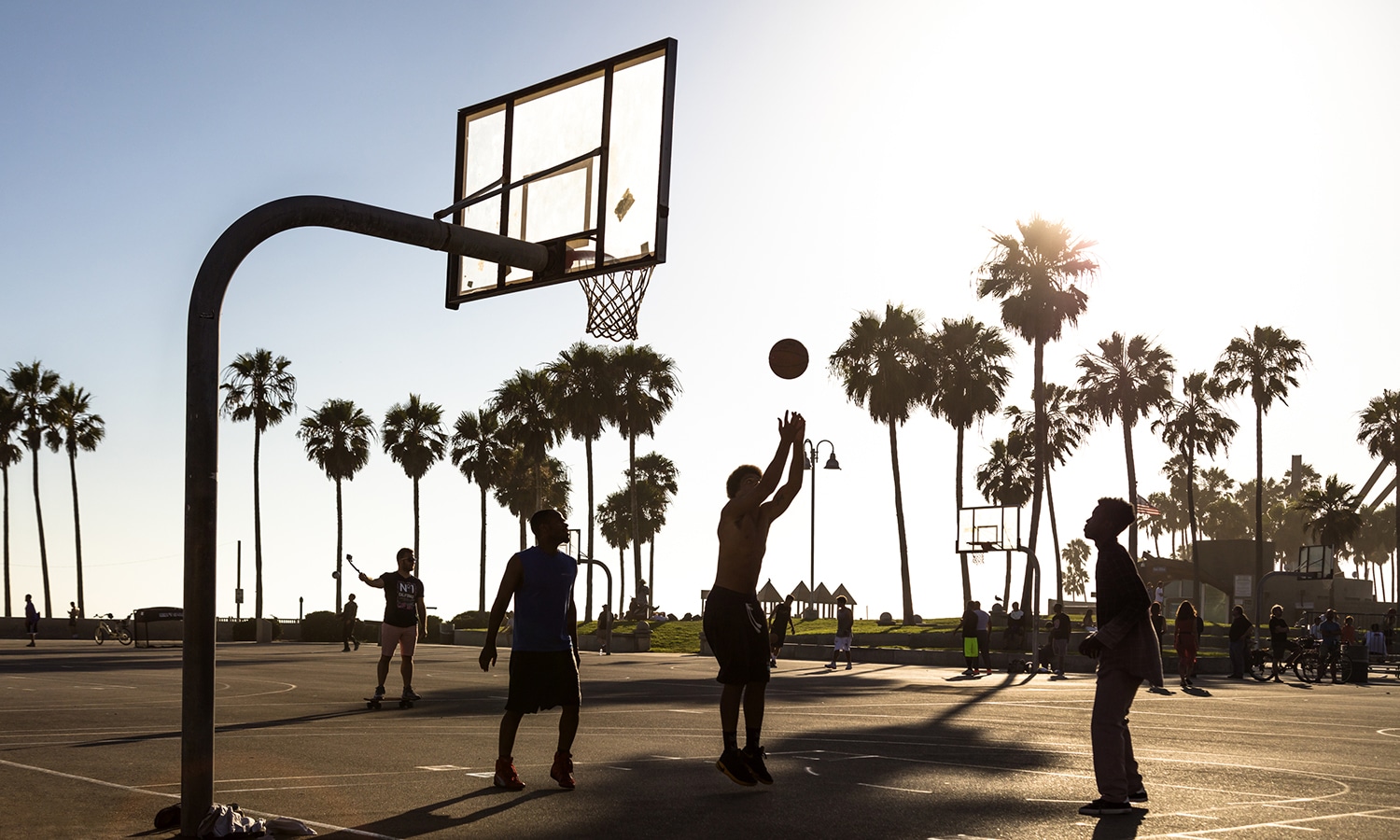 However, the door for playing professional basketball wasn't opened for Tra.
"I was among the final 10 athletes at a tryout and didn't get a contract. I was upset with God and wondered, Why is this happening? I didn't know what the Lord had in store for me," Tra shared.
Today, you'll see Tra still on the basketball court, but in a different role—coach.
"I prayed and the Lord opened the door for me to create an AAU (Amateur Athletic Union) boys basketball team in San Diego, which is called Team Faith and Basketball (Team FAB)," Tra shared.
Team FAB gives fourth- to 12th-grade boys an opportunity to learn the fundamentals of basketball and grow in their faith, year round. They practice twice a week and as part of the team commitment they have Bible studies and even work on memorizing Scripture every Wednesday.
On the back of the team jerseys there is a cross and even has the Scripture reference Proverbs 17:17 which says, "A friend loves at all times and a brother is born for a time of adversity," (NIV). This is exactly what Tra desires to pass on to the boys on his team. He wants them to know he is there for them and for them to show up for each other.
Team FAB includes boys who know the Lord and some who don't. They have a choice to be a part of this team and also to choose God. Tra desires to share the gospel no matter what—giving them the optimal opportunity to have a relationship with Jesus.
"All through the process of tryouts and not making the professional teams, I learned to grow in my faith and put basketball second," Tra shared. "I think I was putting basketball before God. That may have been one of the reasons why things weren't working out. Then I completely turned it around and created an AAU basketball team that glorifies the Lord."
Prayer Made a Difference in My Life
Tra recognizes the many people God brought into his life to lead him toward Jesus. It started with his grandma, who shared the Bible with him at a young age. Tra's parents were teenagers when he was born and so his grandma had a big influence in his life, even raising him from a baby through his elementary school days.
"My grandma encouraged me and wasn't pushy when it came to faith," Tra shared.
When Tra was 17, he met Tim Chou with The Navigators (San Diego) at the local recreation center and also at L.A. Fitness, where they both played basketball.
"Tim and I connected during those times at the gym and built a relationship. He shared the gospel and invested time with me," Tra shared. "He would constantly tell me he was praying for me. Eventually, I came to know the Lord and began to attend one of his weekly Bible studies. He helped me get connected to other believers."
During his second year of junior college, Tra played basketball with Zach. It was during a long bus-ride back from a game—stuck in L.A. traffic—that Zach began to ask his teammates questions about their faith.
"Zach asked, 'Do any of you guys believe in the Lord?'" Tra shared. "I was one of the few who said, 'Yes!' I noticed how bold Zach was about his faith, but not pushy at all. He was doing what the Lord had called him to do. And today he's a youth pastor in Northern California."
Tra was grateful for Zach's boldness and the Life-to-LifeⓇ relationship they had from that point on—spending hours reading Scriptures, which strengthened Tra's faith and spiritual growth.
"Zach would pour into me and pray with me," Tra shared. "He has had a huge impact on my life, and the depth in his relationship with the Lord caused me to desire and hunger for that, too."
How God Transforms Hearts and Families
Now God has brought Tra full-circle in giving him the opportunity to pour into Team FAB, and even specifically Tim's son, Nate. Although, Nate isn't the only one benefitting from this AAU team.
Building relationships happens both on and off the court. These boys take what they learn from their Team FAB practices and share it with their families.
These parents are aware of the type of team Tra created. Even though some families don't follow Jesus yet, they appreciate the positive influence Team FAB has on their child's life.
Tra shared how one family had two sons participate in Team FAB. Their dad knew of the Lord, but had never decided to follow Him.
"I built a friendship with this family and prayed for them," Tra shared. "Now their dad has come to the Lord and even participates in a Bible study with Tim and I. He's walking with the Lord and his marriage is flourishing because of that. I know his wife and these sons had been wanting this and praying for it."
The Lord is using Team FAB to transform multiple families.
"Another guy on my high school team accepted the Lord and has such a hunger and desire for God. He prays every day and asks me a lot of faith questions, wanting to know more," Tra shared. "It was through this guy's contagious faith that led his dad to accept the Lord. Now his dad is involved in Bible study and has a similar hunger and desire for God."
Team FAB started small and in that first year they didn't have many wins. Now they have grown to multiple teams and have built a foundation of faith first and basketball second.
Tra hopes Team FAB influences these boys to become the men God created them to be. He often reminds them of Proverbs 27:17, "As iron sharpens iron, so one person sharpens another" (NIV).
"We're building relationships, not just for the gospel, but for the future," Tra shared. "We're using basketball as a tool. By creating relationships now, hopefully they will have this community in the future, and ultimately begin a relationship with Jesus. We just plant the seeds of faith and know only God can transform hearts."