A successful young professional finds Jesus and new purpose in discipleship
A year ago, Corey had just graduated from college and was taking his first steps in an ambitious climb up the finance career ladder.
"Corey had a plan for his life, but faith wasn't really a part of it," Navigator Alec Glass says. "Things have changed a lot for him since then."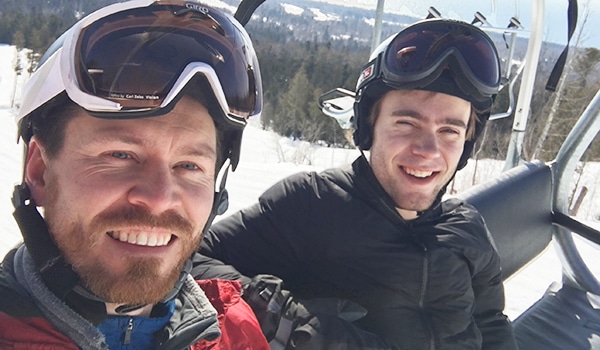 Corey had grown up in a Christian household, but a personal relationship with Jesus was sorely missing.
"To me, faith was about where I went on Sunday mornings, instead of truly living as a follower of Jesus," Corey says. "This all changed last May, when I had dinner with my friend Erica, who is involved with The Navigators. During dinner, we had some honest conversations about faith, I shared some of my objections, and then she gave me The Case for Christ by Lee Strobel."

Corey spent several months asking tough questions, praying, knocking on heaven's door with a seeker's heart. Then, last fall, he decided to accept Christ! Erica put him in touch with Alec, who serves with Navigators 20s in Minneapolis, to help him grow spiritually and get connected with other believers.
"This completely changed my perspective on my life," Corey says. "Before, my goal had been to work in finance, go up the corporate ladder, and live a 'good life.' Now, I am entirely dedicated to living for Christ and following Him where He leads me."
So impassioned was Corey by his newfound faith in Christ that he began to sense a call to full-time pastoral ministry. He left his job to attend seminary in August.

"I often pause and thank God for the incredible changes He's worked in me," Corey says. "God has used the people in The Navigators to completely transform my life, and I pray that others will have similar life-changing experiences through my ministry."
For Erica, who fervently prayed for Corey before he came to Jesus, the most exciting thing about Corey's story was his transformation.
"I've seen him move from questioning the veracity and authority of Scripture to embracing its commands wholeheartedly," Erica says. "That transformation is only because of Jesus—so all glory goes to Him!"
For Alec, the chance to experience God bringing disciples into His Kingdom is exhilarating.
"My heart comes to life when I have a chance to invest in someone like Corey," Alec says. "It is a joy to help someone grow closer to Christ, regardless of where they are in their faith journey. The passion he has for his newfound faith and his hunger to grow make it such a gift to be a part of God's work in his life."
Corey's faith continues to grow as he faces the future with Jesus.
"God has been deepening my faith through adversity," Corey says. "These last few months and all that is going on in the world and our nation have pushed me in a way that I haven't been pushed before. I've really had to lean into God and His Word. Even when I am struggling, I still have confidence in God." 
For all three friends, Life-to-Life® discipleship proves a powerful force.
"We were created to be in relationship with others," Erica says. "God said in Genesis 2 that it was not good to be alone, and I think we've all felt that most clearly during the pandemic. When there's someone willing to spend time with you, teach you, correct you, cry with you, laugh with you, encourage you, and share their life with you, it's tangible proof of His love for you—as well as an opportunity for obedience in passing that gift on."
Please pray that God would use more people with testimonies like Corey's to influence countless others with the power of the gospel.