Once a month the small group met at a new restaurant to connect in fellowship—reading the Word and praying for one another. Initially, the group comprised only Jane Menning, Navigators City Director for Minneapolis/St. Paul, and Navigators Collegiate students Christine Kao and Keshia Koh, who were studying at the University of Minnesota. Their time together involved conversations about the Bible, their relationships with Jesus, and experiences as Asian Americans in Minnesota.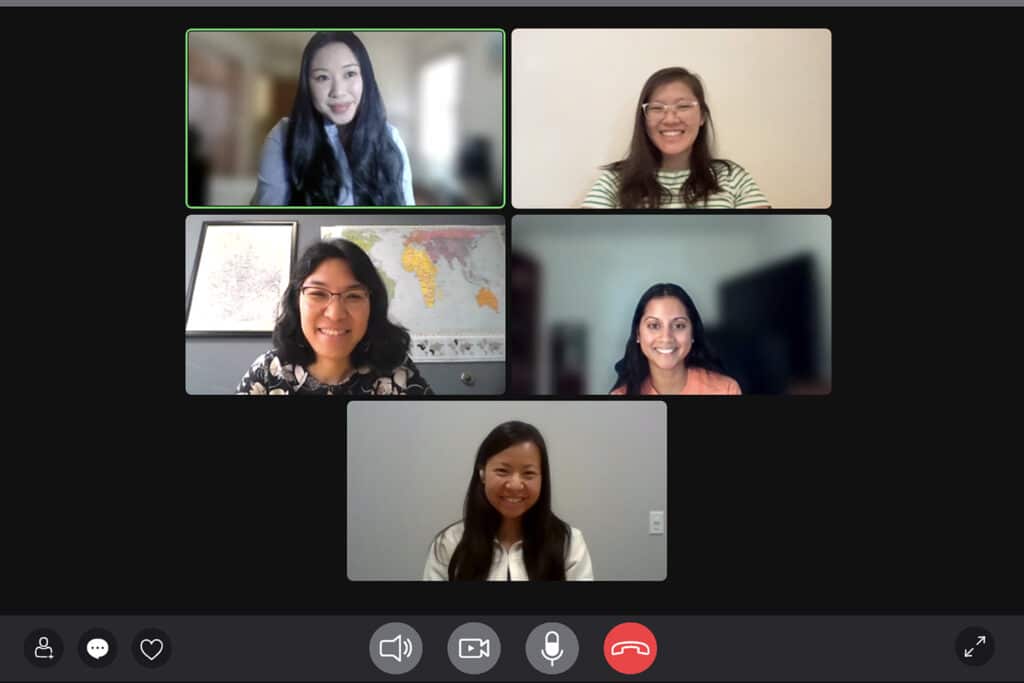 However, these in-person gatherings quickly changed to online Zoom gatherings during COVID-19. This allowed more women from different parts of the city to join the conversation, like Manika Karnick and Natalie Rustad, and they've continued online. 
"I think the aspect of community and belonging would matter regardless of where you grew up," Jane says, "but often we may be the only person of color. That has shaped us, and it's good to connect with people who understand that." 
"I mentioned to [Jane] how isolated I felt within the Asian American community as a Chinese adoptee," Natalie says. "This unique community is one I had never been a part of before." 
Creating an Honest and Caring Small Group 
During the Bible study, the group discusses and processes anything and everything from life transitions to things happening in the world that impact them personally.
"We each bring our unique stories," Christine says "and when there are hate crimes toward Asian Americans, we can grieve and lament together. This is a place where I can bring my heart and feel OK to share it fully."
Most of these women are working in their careers. Christine works as a pediatric nurse, Keshia as an engineer, and Manika in marketing and sales, with Natalie planning to pursue dental school. 
"Something beautiful about a Christian community is God showing up through the people around you," Manika says. "I want other Asian American women to know God does understand you and He does see you, even if it doesn't always feel like that. It's true!"
Whether or not they grew up among other Asian Americans, these young women appreciate their sisterhood and how they grow spiritually together. Jane describes it as an authentic community around encouragement and how to grow in Christ through all seasons of life.
"I grew up in a Chinese church, so I had an Asian American community," Keshia says. "But I think this group is special because we get to talk about some of the more serious things and how it affects our faith."
Pray for our brothers and sisters in the Asian American community for safety and for the love of Christ to flourish.  
Are you looking to join an Asian American community of faith? Learn more about our Asian American Network on Facebook at facebook.com/asamnetworkofthenavs.
Discipleship Tip:  Are you a part of a small group? Starting a small group for community doesn't have to officially happen through a specific ministry or church. You can grab a few friends and intentionally meet together whether in person or online for encouragement, prayer, Bible study, and closely following Jesus.