When Navigators Jack and Joann led Segundo, a student at the University of Santiago in Spain, to the Lord in 1978, they had no idea how far the gospel would go. Today, Segundo is the president of a denomination called Buenas Noticias (Good News), which includes about 30 churches.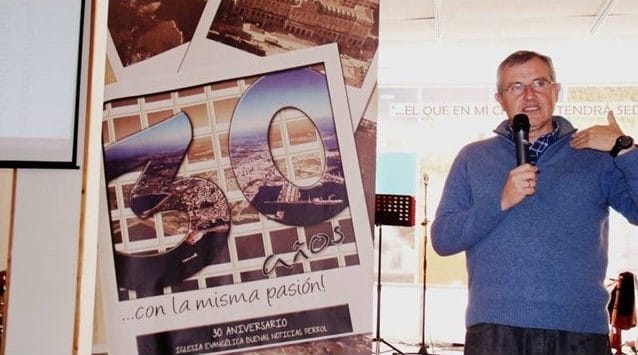 "I was very involved in extreme, militant, communist politics of the left-wing party," Segundo says. "My extreme activism was adversely affecting my health. My nervous system collapsed. I had anxiety and heart arrhythmia. That led me to look for Christ."
A friend named Ana, who happened to be a Navigator, would talk with Segundo about philosophy. Then she invited him to a Navigators camp hosted by Jack and Joann.
Everything changed when Segundo accepted Jesus at camp on July 24, 1978. On July 25, he was supposed to attend a political meeting for a big event.
"God had a great sense of humor, because the day after I gave my life to Christ, I had this big demonstration that was probably going to hurt a lot of people," Segundo says. "I didn't go to that meeting. My heart-change happened the day before the most important day of that year for the party."
Through Ana, Segundo met and made a deep connection with Jack. Ana's brother Pablo discipled him, and Ana reached out to Lola, who would one day be Segundo's wife. Segundo changed his mind on how to transform the world—not through politics, but through Christ's love.
After graduation, Segundo went to a village on the north coast, where he and Lola started a small fellowship group. Each leader became the pastor and formed a little church.
"In Galicia, the Northern province of Spain, there are 1,000 cities and villages, but there were only 10 evangelical churches at that time," Jack says.
Segundo sees God breathing new life into these communities.
"I've been doing this for 35 years and want to do nothing other than establish churches and motivate others to do the same," Segundo says. "I needed to sit at a table with friends, hanging out with a Bible, in order to change my life. Churches now are understanding that. It's that Life-to-Life discipleship, friend to friend."
His network of churches includes about 2,500 people—and it's multiplying disciplemakers throughout the globe.
"It's impossible to calculate the impact," Segundo says. "We pray for a revival! We can hear something new. It started out small, but now the harvest is getting big. Something's coming."
Please pray for a revival across Spain and for God to ignite more generations of disciplemakers all over the world.