When Caimin came to Vanderbilt University as a freshman, she was a new follower of Jesus and eager to grow in her faith. She connected with Jasmine, a sophomore, whom she had met during a summer program while in high school. Jasmine had been growing as a disciple through Life-to-Life® discipleship with Shelby Langford (Navigators Collegiate).
Jasmine asked Shelby to start meeting with Caimin as well, so she could learn more about the Bible and grow. Shelby responded, "Why don't you disciple Caimin yourself, taking the spiritual practices we have worked on together in the past year, and share them with her?"
When Shelby was a student at Vanderbilt, The Navigators invested in her spiritual growth. Now on Navigators staff, she sees the impact of multiplication through both discipleship and evangelism after two years of pouring into the lives of students. "Vanderbilt students I have never met have heard the gospel because of the lives of the women I am discipling!"
Spheres of Influence
Each woman Shelby disciples has the opportunity to impact lives within her unique sphere of influence.
Jasmine is studying biomedical engineering and hoping to attend medical school after graduation. In addition to discipling Caimin and being a Bible study leader, she has a heart for reaching out to those who do not know Jesus.
"God has been teaching me a lot about the intellectual side of faith and ministry this year," Jasmine shares. "As a leader in Navs and also in my conversations with some of my unbelieving friends about my faith, God has revealed to me a side of Christianity that I had yet to learn about. Shelby has really encouraged me to lean into this challenge and has been super open to talking about hard questions that I have as a result of my own conversations with those who do not know Jesus."
Bringing her faith into the ROTC community is Mykayla's emphasis at Vanderbilt. During her first year of college, she has grown in her foundation of faith. Mykayla says, "During my discipleship time with Shelby each week I have learned that what Christ did on the cross is enough to cover absolutely every insecurity, fear, temptation, uncertainty, prideful motive, or evil desire that I may have. God has reminded me that He is present in all the seasons of my life and His grace is sufficient for all."
From her own growth as a disciple, Mykayla also has a heart for reaching others. "My favorite thing about Navs is the emphasis on the importance of evangelism PLUS discipleship and the practical tools that we are taught to use."
Mykayla plans to join the U.S. Marine Corps after graduation, extending her influence into areas where God places her, multiplying the impact of disciplemaking.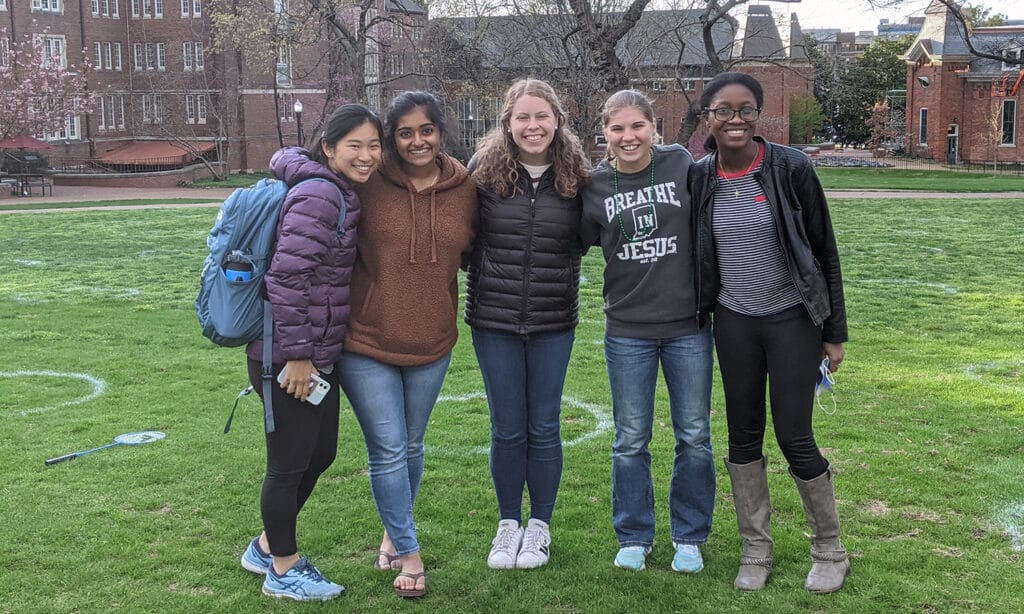 A Community of Faith
Growth as disciples of Christ and a heart for reaching out to the lost does not happen in isolation. The community of faith formed by The Navigators is an important part of encouraging students as they follow Jesus.
Zara, a recent graduate from Vanderbilt, shares, "The Nashville Navigators has given me pretty much every single one of my closest friends. These are people who love me, know me, and encourage me to follow Christ more intimately. This last year of college was anything but what I expected—the COVID-19 pandemic, disunity rippling through our country, and distance from people and normalcy. Through all that and figuring out what was next for me after graduation, the Lord taught me about His faithfulness, trustworthiness, and graciousness. My soul was refreshed and nourished by my time with Shelby and her consistent commitment to helping me listen to God."
The community of believers is also important to Elicia, who is a junior this fall. "My favorite thing about the Nashville Navigators is that it is a safe space to make mistakes, grow, and learn how to do life alongside fellow believers."
This fall will bring new opportunities to connect with college freshmen. Shelby is expectant for what God will do in the coming year, "I cannot wait to see who He will bring into my life as I lead first-years in the fall and seek to pour into new faces on campus. I am eager to walk alongside them as they venture into this exciting new season. Would you join me in praying for the incoming freshman class to have a spiritual hunger when they walk on campus?"
Fall on Campus
Reach out intentionally and creatively to connect, especially with freshmen. With the return of in-person ministry opportunities, the relational connections that start this fall will provide seeds for the Good News of Jesus to be shared widely on campuses around the country.
During the first days and weeks on campus, new students are deciding what kind of lifestyle they may try out in college. Connecting with a Christian who cares can make the difference in daily life and for eternity!
Take a prayer walk around a campus near you, or do a virtual prayer walk. Resources for praying for college campuses are available at everycampus.com. The Navigators has joined with other ministries that serve college students to pray for a gospel witness on every campus in America!
Pray that God would open the door for the gospel in the lives and hearts of college students all over the world. Pray especially that new students will have a spiritual hunger and be open to hearing the Good News of Jesus.