On this bitter winter day, Russia is again shelling eastern Ukraine. Tyler and Kelly Sanderford, Navigator missionaries in Ukraine for 16 years, are clearly troubled by the news. "We've spent a lot of time today praying and waiting and reading the news and checking on our people," Kelly reports from their temporary apartment in Budapest, Hungary.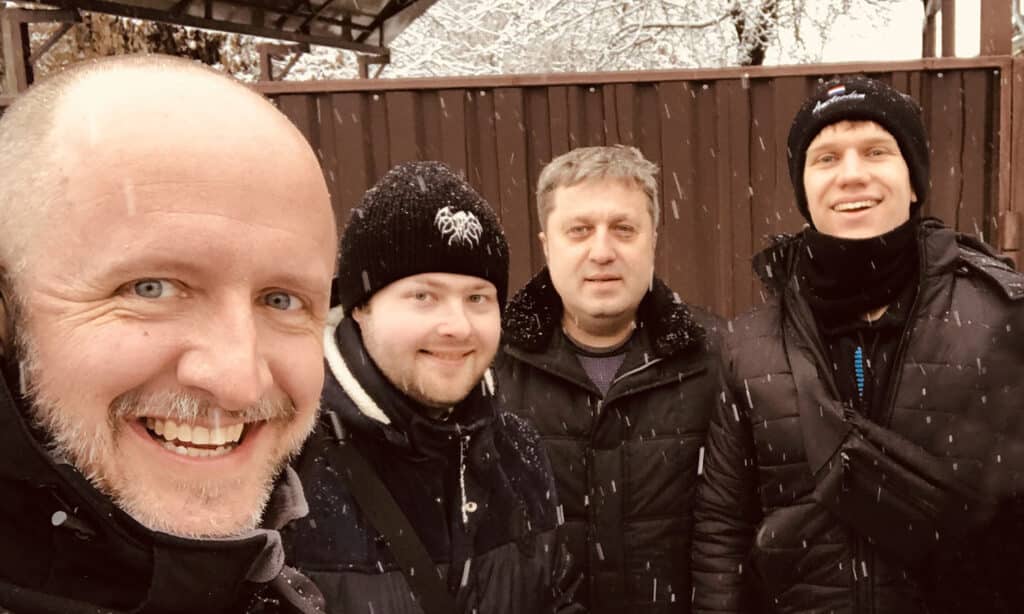 When war comes to your adopted country, disciplemaking focuses on the needs of those you are serving and investing in. Early in 2022 the Sanderfords joined the millions of Ukrainians crossing the border to safety. Since then, God has shown them how they can minister most effectively in a time of crisis.
As conflict threatened, the family made evacuation plans and even did a dry run. Then, on January 26, 2022, the U.S. Embassy recommended that all Americans leave the country. Their Navigator leaders agreed that safety came first. Tyler and Kelly left their home and pets in Kyiv under the care of a Ukrainian believer and drove with their three teenagers to Budapest, Hungary, where they could stay with friends. They hoped they would only be there for a month or so.
But in February the war exploded. As they searched for a Budapest apartment and enrolled their kids in an international school, they began to hear from Ukrainian friends who needed help. The phone would ring: "My great aunt will be at train station, could you pick her up and take her to the airport?"
They wore a path between the border, the train station, and the airport, ferrying their contacts away from the conflict. Through their relational networks, they helped people find shelter in Western Ukraine, Budapest, and throughout Europe.
As Tyler and Kelly faced the crushing needs of millions of refugees, they began to ask, "What has God gifted us to do?" Kelly recounts. They were willing to address physical needs, but they refocused on their true calling: "God has made us to care for people."
Encouraging Those Encountering Tragic Loss
Their Ukrainian friends and those they had discipled were struggling: separated from family and friends, living in a foreign country, trying to function in a different language, attempting to build a safe and stable life for their children. They had lost their homes and their vocations—at least for now. "They feel very alone and isolated," Tyler says.
Tyler and Kelly began to visit their scattered friends. They traveled to Poland, to the United Kingdom twice, and are planning a trip to Germany. Tyler summarizes, "We want to see what they need."
They find that one of the Ukrainians' biggest needs is a friend to come alongside them during the challenging seasons of war. "We listen a lot," Tyler says. "We ask, 'How are you doing, what was scariest thing that happened, how have you seen God working?' Most important, we want to help them find their encouragement from the Lord."
Meanwhile, Kelly has started an online mothers' prayer group—a way for Ukrainian women to connect and to join in prayer for their children. Once a month Tyler goes back to Kyiv to check on people they know who cannot leave or have chosen to stay behind. "I pray, encourage, listen, and take them things they need," he says. He has brought food, generators, and camp stoves for friends who have lost electricity.
Meeting people where they are in life, whether it is in a war zone or life crisis, is part of discipleship.
Jesus met people where they were whether they needed healing, food, or water—He showed them the way, truth, and life.
Kelly summarizes how God is working through them as the war drags on. "We can walk with our Ukrainian brothers and sisters through this dark time. We can be encouragers, we can cheer them on, we can speak truth to them in a place where they don't often hear it."
Join the Sanderfords in prayer for those they serve:
Pray for Ukrainians to have peace in their hearts because of Jesus
Pray for the Ukrainians would turn to the Lord as they lose any sense of control over their lives
Pray for provision for those in the war zones
Pray for peace and a resolution to the conflict in Ukraine
Discipleship Tip:

When those in your circle of influence lack physical and emotional needs, first pause and help by caring for their needs. Then see how God leads you to invite them to follow Jesus with you.
Discipleship During Crisis
In the "Discipleship During Crisis" episode of Disciple: Be One, Make One Podcast, Tyler and Kelly share their journey of what missions looks like in Eastern Europe in light of the war in Ukraine. Explore with them what it means to share God's love with those you know who may be in a crisis.
Click the link below to listen now to this podcast episode, "Discipleship During Crisis."