A little over five years ago, Lilian arrived in Knoxville to begin working on her doctorate in soil science at the University of Tennessee. Although her visa status called her an academic student, Lilian was just as much a student of God and His Word.
Having known about Navigator groups while studying in Kenya and Germany, Lilian was eager to join the Navs International Student Ministry (ISM) at UT, studying the Bible and investing in other international students God placed around her.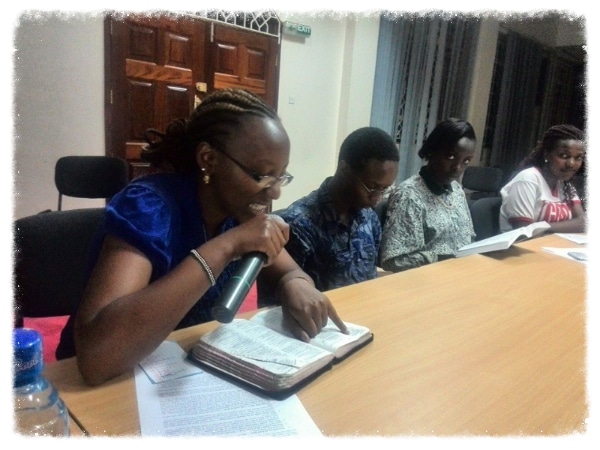 "During her years here, Lilian was an incredible blessing to us," says ISM campus director Joel Otero. "We saw God use her in the lives of students from all corners of the globe."
In mid-December, Lilian completed her degree. By the end of the month, she was on a plane headed back to Kenya to begin her new career.
"As we work with international students and desire for them to experience lifelong intimacy with God, we feel a tension knowing that our time with them is limited," Joel says. "But we also feel a peace, knowing that they are children of God, and that His love for them and commitment to them far exceeds our own. He can and does go with them, no matter what country or continent they are in."
At the beginning of February, Joel and his wife, April, received a message and photos from a Kenyan Navigator they had introduced to Lilian when he was in the States for seminary classes. It wasn't surprising, but incredibly encouraging, to see their dear friend, Dr. Lilian, taking Navigator student leaders from Kenyatta University through Isaiah. New place, same pattern.
"Lilian's story illustrates one of the greatest joys and privileges we have in International Student Ministry," Joel says, "to relate with students from all over the world, and then send them back into the harvest even more equipped and passionate about God, the Gospel, and living as an ambassador. It truly is more blessed to give than to receive."
Paul and Jane Slay, who serve as mission director of ISM and local staff members in Knoxville, say stories like Lilian's, though common, are also special.
"These stories demonstrate what we are praying for and trusting God to do in sending laborers to the harvest," Paul says.
For Jane, ministry with internationals is like a foreshadowing of heaven.
"Revelation 5:9 tells us that, with His blood, Jesus purchased people for God, from every tribe and language and people and nation," Jane says. "God loves all the nations. It is a privilege to participate in His bringing the nations to Himself."
Joel and April continue investing in students, knowing God guides each of them with an expert, loving hand.
"We often sit back and see God's hand in stories like Lilian's, marveling at God's control over all the shuffling pieces, how He uses them to reach all peoples with the Gospel," Joel says. "Whether we are receiving or sending, we are blessed to be part of what God is doing."