Growing in one's relationship with Christ takes time and effort, much like raising children. It's a process. During this process, there are also a few "leaps of faith," like at the University of South Florida.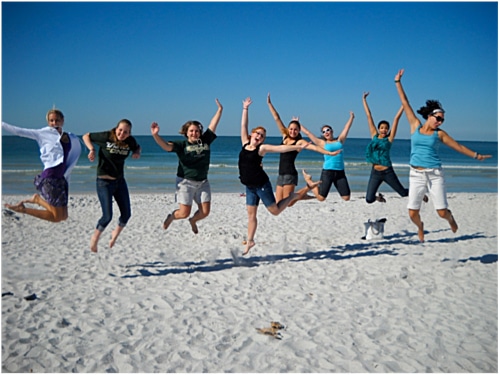 Some sophomore and junior students in Navigator staff Rachel Christofel's Bible study decided they did not want to live a mediocre Christian life like they had previously! Instead, these women resolved to grow spiritually this year. They said:
"I've never studied the Bible, and I thought it would be great to try a [Bible] study."
"As a transfer student, I fight for my faith everyday in my department and I need a place to come where I'm not the different one."
"I know this sounds weird, but I am falling in love with Jesus."
"I've not been living for God or like Jesus would want. I want to get back on track."
"I was praying one day for Christian friends and God gave me you guys."
God is at work here and on other campuses giving students like these the desire to "crave pure spiritual milk [God's Word], so that by it you may grow up in your salvation" (1 Peter 2:2). May the Lord continue to give more "leaps of faith" for His glory.