"Most people don't understand the intense daily pressure on police and other first responders," shares Tom*, who has been a deputy sheriff for 20 years. "We investigate deaths, we re-live accidents as we inform family members of deaths, we lose our trust in people as we see that normal-looking parents are actually beating their children. Each day we suffer little wounds that over time build up to huge stress."
Before he started following Jesus 15 years ago, Tom dealt with stress in the same way many officers do—excessive drinking, hard partying, and going to strip clubs.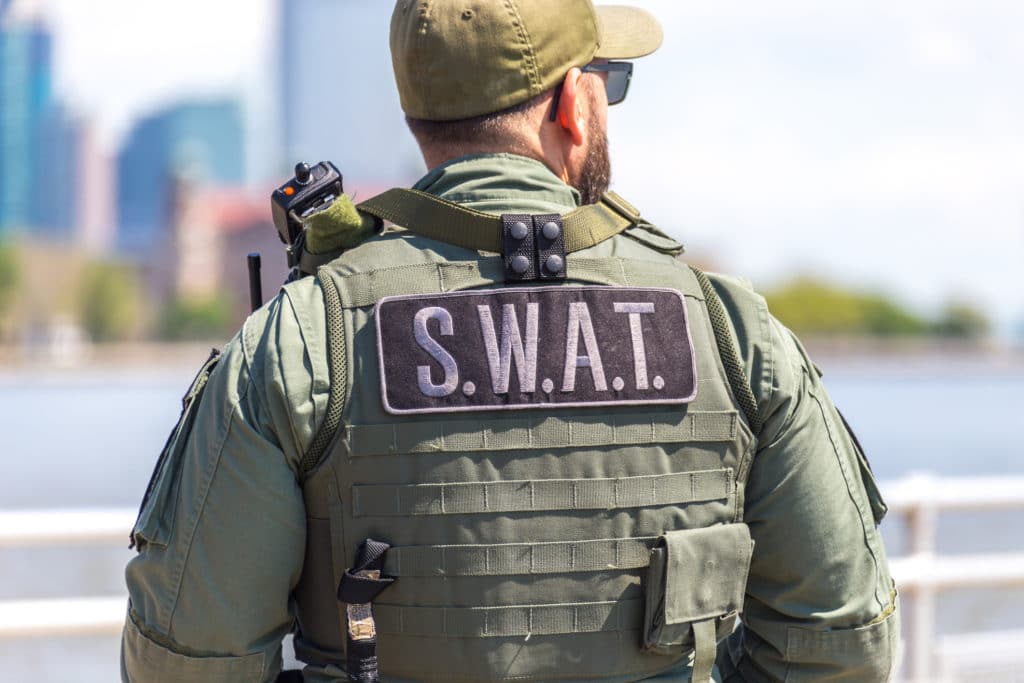 "When I met Jesus, my life completely transformed. I wanted to tell everyone, including the people I worked with, about Him. I'm on the SWAT team and at our annual training week I decided to a do a Bible study every night. The first few years, just a few guys participated, but over time it has grown. At our last training, we had 21 of the 27 officers from our team come to the Bible study!"
Having more and more officers follow Jesus has resulted in a culture shift on the team. Previously, the SWAT team parties were truly wild affairs. Now they are family-oriented times for the team to enjoy fun and games together.
Transformation from the Inside Out
The transformation has happened from inside the department. Tom describes the importance of people authentically living out their faith as insiders: "While it may also be true in other professions, for law enforcement, trust is a huge issue. To have someone come from outside and lead a Bible study or share their faith won't have much of an impact. We don't trust people who don't understand the daily realities of being a deputy sheriff or police officer. So living for Jesus inside the department gives more opportunities to share Jesus with raw honesty."
In addition to the SWAT Bible study, Tom intentionally walks alongside three men doing Life-to-Life® discipleship, helping them grow in Christ through spending time in the Word, prayer, and everyday life. They are motivated to share Jesus with others. Sometimes officers Tom doesn't even know will approach him to talk about faith. One deputy sheriff sought out Tom for advice. His family was falling apart, and he had spiritual questions. Over time, as Tom met with him and shared biblical principles, the man came to faith and his family has been restored.
When Tom first became a Christian, he joined a Bible study that Steve* was leading in their department, addressing questions of daily life in law enforcement from a biblical perspective. Steve continues to lead Bible studies, providing a place for those who are Christians to find connection and encouragement together, and to discover those who want to be discipled to go deeper in their faith. Currently he leads an early morning weekly Bible study for deputy sheriffs before they start their morning shift, equipping them to face the day.
Steve shares his vision, "I think of my career in law enforcement as a calling, to live out my faith even in the hard situations. I have been inspired by Chris Green and Navigators First Responders to consider how to be more intentional in disciplemaking. While I continue with the Bible study group, I also come alongside one of the younger deputies, to disciple him so he can disciple others and carry the work on to the next generation."
A Fire Spreading for God
As more officers are living for Christ, God is igniting a fire to spread naturally—multiplying to more disciplemakers among the first responders. Tom, Steve, and others disciplemakers go on to disciple others, and others, creating multiple generations of disciplemakers.
This network of disciplemakers is spreading beyond the local area. Andrew*, a deputy sheriff who was part of the ministry in Oregon for several years and discipled those who disciple others, moved to California. He has started a Bible study in his current department, and he is praying for God to raise up other disciplemakers. One of the Christians he first met on the force in California has moved to Idaho and is reaching out to first responders there.
The need in the first responder community is great! Daily life as a law enforcement officer is increasingly stressful, with suicide rates above the national average. Those who are sworn to protect the public are also at risk for damaging personal trauma, along with intense media attention for their every action. While departments work to provide counseling and other support, the hope of Jesus is an essential foundation for wholeness.
"Life-to-Life involvement is so important in law enforcement," Tom says. "It helps these guys make sense of things, helps them understand the human condition, why there is tragedy, why there is suffering. I have the honor of inviting these men into a reliant relationship with Jesus, the only truly trustworthy One."
*Names changed.
---
Meet Chris Green of the First Responders Ministry
---
Navigators First Responder Ministry, Oregon
Support The Navigators First Responder Ministry
Navigators First Responder Ministry reaches out to first responders like police, fire, and emergency crews. Many of the Navigators Military staff work with the First Responder team to advance the gospel in first responder families. Will you partner with us to share the hope of Jesus to people in the first responder community?