In 1934, a 14-year-old boy was living with relatives, attending church with his aunt and cousins in Long Beach, California. He attended a Sunday school class taught by a truck driver, but this truck driver was also a man totally committed to winning people to the Lord and encouraging them in their faith. This fatherless boy, Colgate Clark, gave his life to Christ under the influence of that truck driver, Dawson Trotman, founder of The Navigators.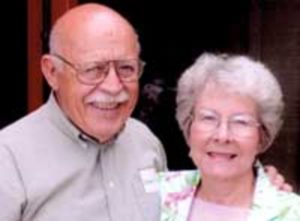 Colgate said, "He led me to the Lord and then began meeting with me every Saturday along with another fellow named Len Herring. The two of us would ride our bikes across town early Saturday morning and usually get him out of bed for Bible study and prayer. Before long, Daws told us to each find another fellow who would be interested in joining us, and as time went on, the group grew and became known as Dunamis Boys Club. Later Daws started a study for girls, which took the name of Marturas.
"Daws wanted us to memorize Scripture so we each got a wrist watch that didn't work and took out the insides. Dawson wrote verses for us to put in this empty watch case. Before long he began printing verses on cards to be carried in our pockets and that was the beginning of the memory system that became so central to The Navigators.
"By mid-1939, we carried small note books with sections for memory verses, study lessons, personal work notes, prayer requests and answers. These notebooks, like the memory packets, became something of a trademark for Dawson. I used mine for years and I still have it.
"Dawson also had a special way of indexing his Bible and he had each of us do it the same way. We initialed the beginning of each book or section to make it easier for us to find the Scripture we were looking for. That's another thing that has stuck with me and I've marked each of my Bibles this same way."
Colgate's association with Dawson was one of the things that led him into full-time ministry. After World War II he went to Westmont College in Santa Barbara, California. He graduated on Saturday, married his wife, Norma, on Sunday, and Norma took finals at the University of California on Monday. Almost immediately they headed for Colorado to work in rural missions.
After a time, they returned to California where Colgate pastored and worked in migrant camps. He eventually joined the staff at Westmont College and later taught in public schools. After retirement they joined Wycliffe Bible Translators. Colgate did maintenance work and Norma was a color consultant and secretary.
"I credit much of the strength of my Christian life over the last 70 years to the fact that Daws spent time with me as a boy," Colgate said. "Daws was quite strict at times. He nailed me on the street one day when he saw I had a portable radio. It had to go."
Though he seemed tough, Dawson didn't demand more of his disciples than he did of himself. Colgate said, "He was committed. Totally committed to the Lord, committed to us boys and the sailors, committed to winning others for Christ. An example of that was he had decided to speak to somebody every day about Christ, and on at least one occasion he got out of bed to find someone to share Christ with.
"Daws was committed to discipling and Scripture memory, and he had a great love for the Lord. He was committed to the spiritual growth of the people he worked with. Because of his dedication in discipling me, it taught me how to treat others, encouraging them in their Christian walk.
"I claim Daws as my father in the Lord. He was the one who introduced me to Christ and he not only worked to develop in me a strong Christian faith but seeing his commitment to his Lord has been a great influence in my life."