Jesus used mealtimes around the table as an opportunity for fellowship and to teach more about His Word. Throughout Scripture we see Him interact in homes, feasts, hillsides, and beach fires—sharing food, fellowship, and teaching with His followers.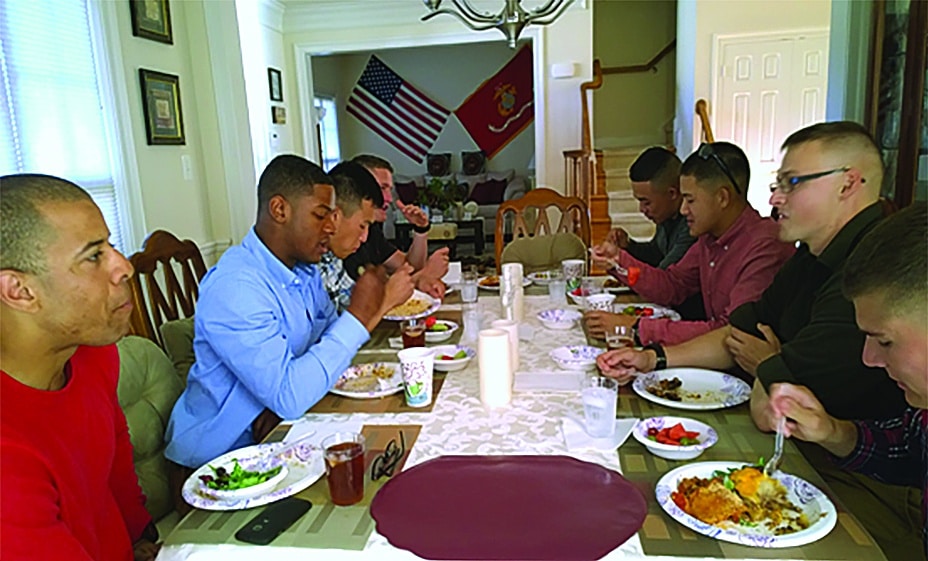 At Marine Corps Base Quantico, Navigators Michael and Velma Jacobs follow Christ's example. Each week they have Marines in their home to share physical and spiritual food. They use these times to encourage and disciple new Marine lieutenants going through basic training school, Marines preparing for duty in U.S. embassies, officers attending Expeditionary Warfare School, or those flying the President's helicopters. By intentional discipleship and fellowship around the table, they are laying foundations for generations of laborers throughout the Marine Corps.
Their investment in the Marines who come into their home is evident in the thoughts of a Second Lieutenant, "The past five months of training have gone by like a blur, but I will always remember the Sundays at the Jacobs' home where fellowship and consistent prayer have made me a better man of character and faith. Because of this couple and their commitment to serving others, my faith and relationship with God have grown even stronger. They challenge me to seek God more, to pray, to continue writing in my prayer journal, and to expand the ministry through fellowship."
Another Marine shared the personal impact of the group, "The trust and confidence fostered in the small group setting made me less embarrassed to seek help with issues men struggle with daily."
The encouragement and focus on following Jesus will continue to make a difference as these trainees serve throughout the military. One Marine shared, "Through the relentless service and hospitality that the Jacobs provided, I now have the tools and faith necessary to serve others and share the Gospel. We challenged each other to pursue Christ in and out of the garrison."
Pray for Navs Military Bible studies like this near military bases all over the United States.