For 90 years, The Navigators has equipped people to explore the Word of God, grow deeper in their relationship with Him, and equip people on how to make disciples wherever God has you.
While many who have been impacted by The Navigators have come on staff or joined EDGE Corps, (two-year collegiate ministry internship), others have helped carry on our mission right where the Lord has placed them in their everyday callings.
Rick Bereit is one of those longtime everyday disciplemakers.
Years ago, after serving in the military for over 20 years and having impactful relationships with Navigators such as LeRoy Eims, Joe and Pam Holt, John Boyd, Paul Drake, and Harvey Oslund, Rick wondered if it was time to pursue full-time ministry.
When he talked to a Navigator at a couples' retreat about going on staff, he received a surprising answer: "He said, 'No! We want you to stay right where you're at. In the military, you have more access to people than any Navigators staff could have!"
From that point on, Rick had a changed perspective. Going on staff was a precious calling, but it wasn't the "next step up" as he had thought previously. Learning how to make disciples wherever you're at is important, and this is something Rick has instilled in those he has discipled for many decades.
Rick remarks, "We want to keep them in their occupations in their locations in their neighborhoods where they're insiders."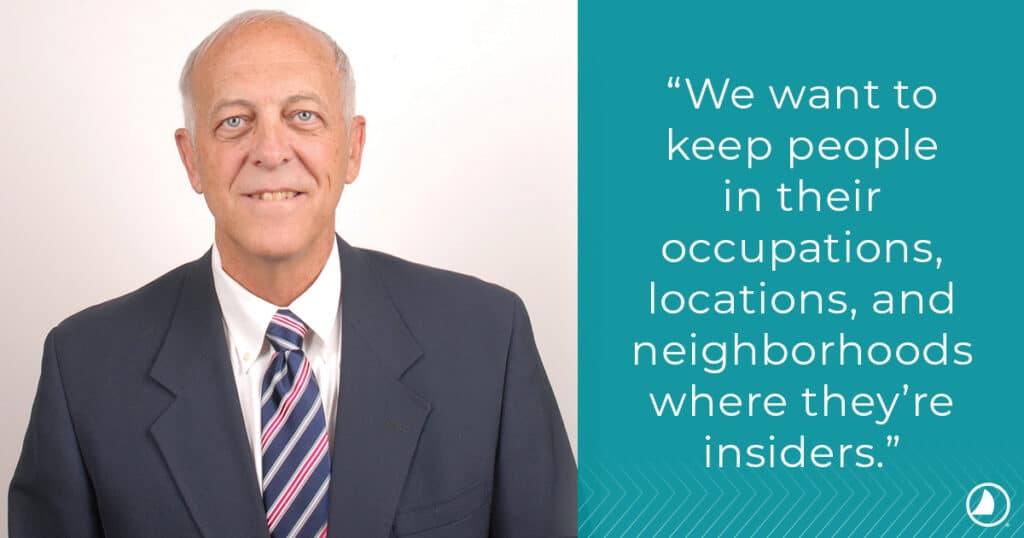 Discipling New Believers
Rick has a soft spot in his heart for new believers who have never been discipled because that was a part of his personal story. After coming to faith at a Billy Graham crusade in Phoenix, Rick entered the Air Force Academy with a hunger for Life-to-Life Discipleship®, though he didn't have the words to express it at the time.
Through the Lord's guidance, in 1967, Rick met an upperclassman who encouraged him to memorize Scripture through the Topical Memory System (TMS). While serving in the military, he also formed a deep relationship with LeRoy and Virginia Eims.
"I was able to watch his life, his family, and Virginia's life, and he was the guy that got me started walking with the Lord," Rick recalls.
Navigators have left deeply formative impressions on Rick's life that he has passed on to people he has discipled.
"As I look back over my life, and I look at my own habits and how they were developed, I can point to a Navigator that challenged me in that area," Rick reflects. "I heard Harv speak several times about generously, sacrificially giving… I got to hear Jim Downing talk about meditation on Scripture… a missionary talked about reading through the Bible in a year, so I set up the habit of reading through the Bible every year."
Over many decades, Rick has followed the Lord's calling as he's discipled people from all walks of life. At the Air Force Academy, he knocked on freshmen's doors and started discipling 14 of them once a week through a Bible study.
Those he discipled went on to become a pastor in New England helping other pastors incorporate disciplemaking in their ministries, an aviation mechanic who took care of airplanes in South America for missionaries, a woman who moved to South Africa to disciple women in college, a couple who regularly practice making disciples in Poland, and so on.
When asked why making disciples is so important today, Rick answered, "I've done this for 60 some years, and I can point to people that are walking with God and the impact that those people are having in other people's lives. I can't think of anything more exciting than that in the Christian life — to spend a little time with someone and then just see them blossom and flourish and become fruitful themselves."
Since the beginning, The Navigators have been equipping people like Rick on how to make disciples and impact generations. We can only imagine what the Lord has in store for the years to come.
Discipleship Tip:

Consider where God has positioned you—where you live, work, and play. Have you thought about how to make disciples there? Who are the people you cross paths within each of these positions? Name one friend in this circle of influence and invite them to hang out.
---
The appearance of U.S. Department of Defense (DOD) visual information does not imply nor constitute DOD endorsement.
Grow Your Confidence as a Disciplemaker!
Do you desire to help someone grow in their relationship with Jesus, but aren't sure where to start? In our free eBook, "Discipleship 101," we give you simple next steps to grow your confidence as an everyday disciplemaker. You'll be equipped to invite others to follow Jesus with you, pray with them, and even study the Bible together.
Click the link below to download the "Discipleship 101" eBook and confidently help others grow spiritually.