"Here we are, in a hot tub. Is this weird?"
Nav staff Keith Pepsny was baptizing eight students from the "Greek Navs" ministry at the University of Washington, staring at nearly 70 onlookers in a neighbor's backyard. Several of them were unbelievers, there to support a friend. It was December, just cold enough to make things a tad uncomfortable.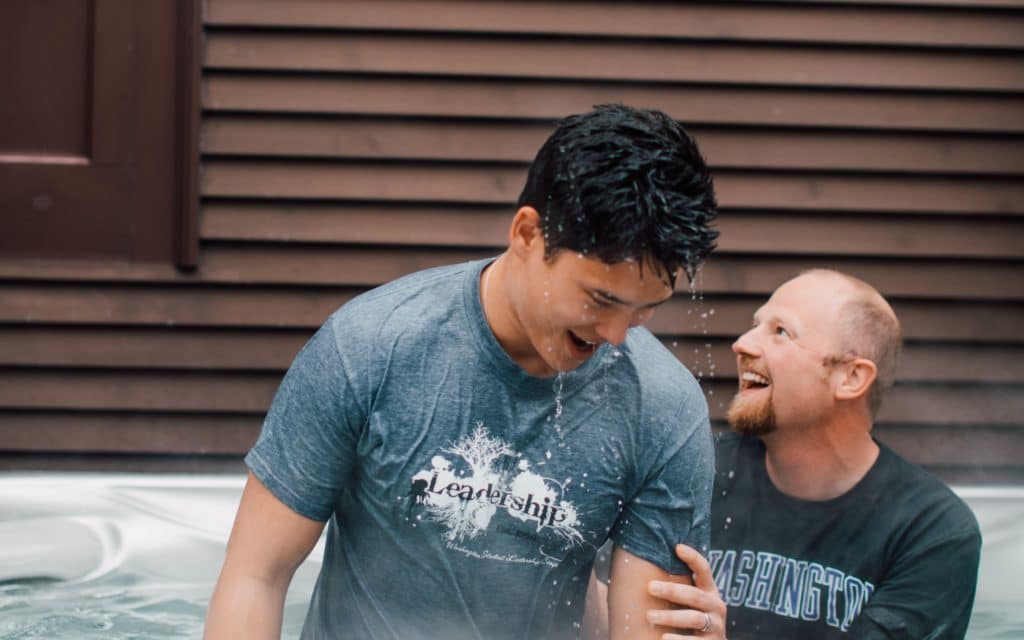 "Hearing them say 'yes' to Jesus publically was so powerful," Keith says. "One of the Sigma Nu guys came out of the water and was instantly surrounded by his fraternity brothers—it was so sweet to watch! It wasn't manufactured—just something the Holy Spirit seemed to be doing. There was a great tenderness with those students that chilly morning, and has continued to this day."
The group, comprised of members of the Greek (fraternity and sorority) community at UW, had been studying the "Invitations of Jesus" that fall.
"We were looking at John 7, where Jesus declares 'come to me all who are thirsty'," Keith says. "We started to notice a real openness toward the Lord, to where we were seeing tears, people repenting of their sin, experiencing God touching their hearts and minds in some powerful ways. We just tried to listen to what He was doing. As I was praying for these students, the image of baptism came to mind. A lot of UW students are unchurched or have never had the opportunity to profess their faith publicly. So I started scrambling to find a place. Because of the holidays, our local church building was not available, which led us to asking our neighbors George and Alyssa if we could use their hot tub. It was perfect!"
Relaunching Hearts
Keith, his wife Kate, and their kids moved to Seattle about five years ago to help re-establish the ministry at the University of Washington.
"After a lot of prayer and discernment, we decided to move from a small college town in Oregon to Seattle," Keith says. "We knew it would require a lot of trust and felt led to give it a try. When we moved here, we spent the first year seeking the Lord, meeting lots of people, and learning the culture. That next summer, our team prayerfully decided to focus our outreach and discipleship efforts in the Greek community. We often say that if a student can walk with God and invest in others in a fraternity or sorority, they can do it anywhere on the planet!"
Things started slow, but then quickly sped up—almost too quickly.
"We were leading a Bible discussion in one fraternity, which led to connecting with three others," Keith says. "One night, I asked my wife, 'How do we keep discipleship as our focus when we're growing so fast?' She quickly commented, 'Maybe we should start a House of Representatives? It could entail praying and meeting weekly with a few key students from each house.' That led to inviting 12 guys to join us in being 'Chapter Representatives'…a.k.a. 'C-Reps.' As of today, with the help of Jeff and Allison Martin, we are now investing in 25 C-Reps and 11 different Greek houses."
Junior informatics major and Sigma Phi Epsilon member Adam Sebetich is one of the students in the Greek Navs ministry, and one of those who chose to be baptized that brisk December day.
"Never did I believe that joining a fraternity would allow me to be plugged into such an amazing community of friends and believers," Adam says. "Three members of my fraternity were baptized that day, but roughly ten came to support me. I wanted them to leave knowing that God is the center of my life."
Senior business major and Sigma Phi Epsilon member Josh Banks' parents drove three hours to see him baptized.
"I always believed in God, but I never strived for a personal connection," Josh says. "During my senior summer at the end of high school, I was trained for a Bible study program we did for kids, and my relationship with Christ grew during that time. I went to UW for my sophomore year of college, and got into a fraternity. One of the guys who is involved in Greek Navs invited me to a Bible discussion in our house. I found community, a consistent group, all hungry to know God more. It was cool to come into my second year at UW with that."
Junior mechanical engineering major and Phi Kappa Psi member Zach Durham, also baptized in December, found God's grace through Greek Navs.
"Jesus' arms are open to every person, regardless of who they are or what they've done," Zach says. "As it says in Ephesians, all of us are dead in our trespasses, but God used Greek Navs to help me understand the Gospel and discover our Savior. The grace of what Jesus has given us is something that I cherish. I feel inspired to spread the Gospel to those who don't know Him yet."
Senior materials science and engineering major and Phi Kappa Psi member Nate Stockman was excited to be baptized, but also a little anxious.
"My family was coming, and I always love seeing them," Nate says. "But I was also nervous, because I knew that when I shared my testimony I would be sharing my dirt with both loved ones and those I had never met before. But I felt encouraged because I knew that God's strength would be evident in my weakness."
Nate had given his life to God when he was four years old, but wandering seasons still came.
"Throughout my relationship with God I have had times where I walked closely with Him, and times where I didn't," Nate says. "The true magnitude of how much I need God in my life was evident this past summer. I had been in a relationship for over two years, and put a lot of hope and selfish desires into that relationship. It ended, mutually and for the right reasons, but I found a large emptiness in my heart. I tried to fill up that hole in a variety of ways, but found myself feeling empty and dirty each time I sought temporary solutions. At a SeattleNavs City Gathering this past October, my heart was broken to pieces as I realized how much I need Jesus to make up for my iniquity, and that He is the only source that will continually fill up my life."
Nate shared all of this with the gathered crowd.
"I'm getting baptized today because I want to publicly proclaim Jesus Christ as my Lord and Savior," he said that day. "Jesus says in John 7:37 that anyone who is thirsty can come to Him to drink. Anyone who believes in Him will have rivers of living water flowing out of his heart. I want to share that Jesus is my whole portion, and that He can fill any heart, no matter how empty you may feel."
Life-on-Life Impact
Behind each baptism story is an ongoing story of discipleship.
"Life-on-life discipleship has made a huge impact in my coming to Jesus," Zach says. "My faith began as curiosity with no level of understanding. I needed personal guidance, or else there is no way I would be able to fully understand His Word, let alone the Gospel."
Josh deeply values his friendships with those discipling him.
"I've had two pretty big mentors since coming to UW," Josh says. "One was Tim, a senior when I was a freshman. Seniors tend not to live in the house and tend to be involved in other things, like looking for jobs. Tim really took time out of his schedule to connect with me and other freshmen. Keith Pepsny is also someone I consider one of my biggest mentors. He's always encouraging me and texting me."
Adam has also seen the difference personal, intentional discipleship makes.
"Keith invested in me my freshman year, and I have never been more grateful," Adam says. "Though I came to Jesus in my junior year of high school, I would say that my faith really came to flourish with the help of Keith and the Navigator community here at UW. It made a true difference—he showed he cared and that he was invested in me learning the truth."
Keith wears his heart for these students on his sleeve.
"I really love these guys a lot," Keith says. "I'm not quite their dad, but I deeply love them like one!"
That love continues to point UW students to their Father in heaven, whose ultimate love never wavers. Surrounded by pressure to succeed, to belong, to impress, Nate says God has used Greek Navs to remind him how to rest in the love of God.
"As an engineering student, I'm huge on performance," Nate says. "Am I getting the grades? Did I get the right answer? Am I doing all the right things? These questions often pervaded my thoughts about my relationship with God, and made me feel small and undeserving when I messed up. God has been teaching me that He is always running after me, and doesn't love me any more or less based on my performance. Jesus wasn't exclusive in His invitation; He invited all people into a beautiful relationship where anyone could come to Him and be filled with living water."