My friendship with Jim Downing (author of The Other Side of Infamy) began because I needed help with hope.
I was battling intense anxiety over lifelong theological questions, and had recently resolved to let more people into my struggle. Jim was and is a sort of honorary member of our Navigators Communications Team, so I had been watching him closely at our Christmas lunches and other gatherings. He was kind and intentional. About everything, and with everyone. I began to wonder if Jim was a providential gift in a season of doubt.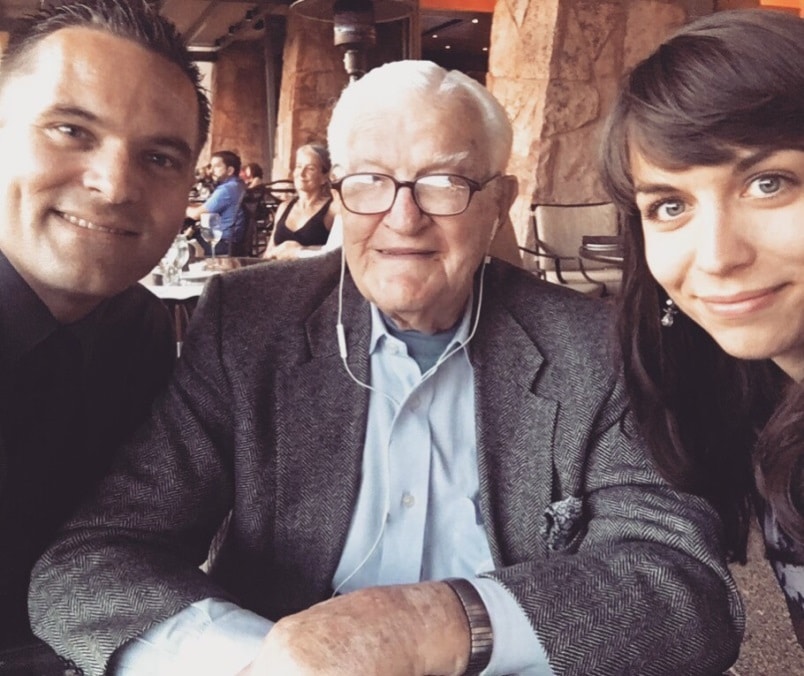 My reasoning was simple. Surely a man more than a century old, who had survived Pearl Harbor with faith and hope intact, must have wrestled with my questions before. I emailed Jim in July 2014, thinking he might write back, and he might even agree to meet once or twice. I had no expectation that more than two years later, I'd count him a dear friend.
In an age when going the extra inch for others is rare, Jim goes ten miles. He has often had a stack of insights printed and ready for me when we meet, including a page-long joke or two. Jim is one of the few people I've known to be both deep and completely unintimidating.
I've listened to many stories over the last two years, as has anyone who spends time with Jim. He is a treasure trove of anecdotes, analogies, jokes, and Bible verses. When my husband and I meet with Jim, we rarely leave before three hours have passed—hours filled to the last minute with wonderful stories (after which Jim unnecessarily apologizes for "talking too much"). Still, I don't think I entered those stories until I read his new book The Other Side of Infamy. (NavPress 2016).
As I turned the pages, I found myself in a Model T passenger seat, watching Jim's life round each harrowing bend. Watching his God prove continually faithful. Trying on his shoes, walking around a little.
I felt a bit of the agony he and his brand new wife, Morena, experienced as they said what could well have been their last words to each other, just before Jim raced off to a battle already raging early that Sunday morning in Hawaii. I felt his fury as he watched his comrades burning alive in the harbor water. I dove for cover with him as bullets from an overhead plane dug a trench beside us in the dirt.
The most undramatic details touched me just as deeply. I watched little Jim sleeping on a pile of empty mail bags at his father's general store in Plevna, Missouri, paying 15 cents for a tenderloin sandwich and a cold drink with friends, doing farm work after school by the light of a tractor. I related to his profound desire to travel, and his endearment to New York City, a place I called home for three exhilarating years. I laughed as I recognized that the sense of humor I've come to admire in him was there in full force even in the 1940s (read page 71 for a hilarious example). But the most moving pages of The Other Side of Infamy described the supernatural peace Jim experienced on what should have been his most anxious day on earth.
On December 7, 1941, shots flying and fuel waiting to explode all around him, Jim thought he'd see Jesus any minute. Despite my relationship with Jesus, the thought of waiting minute by minute for death is the stuff of nightmares for me. But Jim says, "Suddenly my fear melted away, replaced by the most overwhelming sense of peace I'd ever felt. For the next half hour . . . I expected to die in the next minute. I was sure I would be ushered into God's presence—and that was fine with me. Peace."
The next passage hit me especially hard. I've never looked at fear like this before. Maybe it took a Pearl Harbor survivor to get the message through. All I know is I'm grateful. I once read that 92 percent of the things we worry about never happen. And yet it's often worry that drives our prayers. And when those prayers over our worries are met with silence? We wonder whether God cares about us. We wonder whether God is truly there. Does God respond to false alarms? I believe he doesn't. God is a realist, I think, and while he is always present to us and always active and in control, he is not bound to engage our anxieties. If we're not feeling the peace of God, I suspect we're not truly at risk. Where there is real trouble, real danger, I believe God is present. He may not do what we want, but he will provide what we need in times of trouble. We need him. We need his peace. This is precious wisdom. At the close of Jim's book, he writes, " . . . my message reached more than ten million people in 2015 alone. Some of these connections have defied explanation. The only answer is that God wanted them to occur."
After watching the way my 103-year-old friend Jim has pursued and encouraged my husband and me over the last two years, I am convinced that God authored our connection. As I read his life in The Other Side of Infamy or watch his life lived out in front of me, I am so grateful for this testimony of the God who makes us brave, and the Father who walks with us on our best and worst days.
To learn more about "The Other Side of Infamy" please visit the NavPress website.