Throughout their years of ministry with Navigators Military, Michael and Velma Jacobs have always prayed that God would lead them to chaplains who are willing to partner in ministry. The answer to this prayer has led to fruitful ministry from coast to coast, first for seven years discipling Marines at Camp Pendleton in California, and since 2011 at Quantico Marine Corps Combat Development Command in Virginia.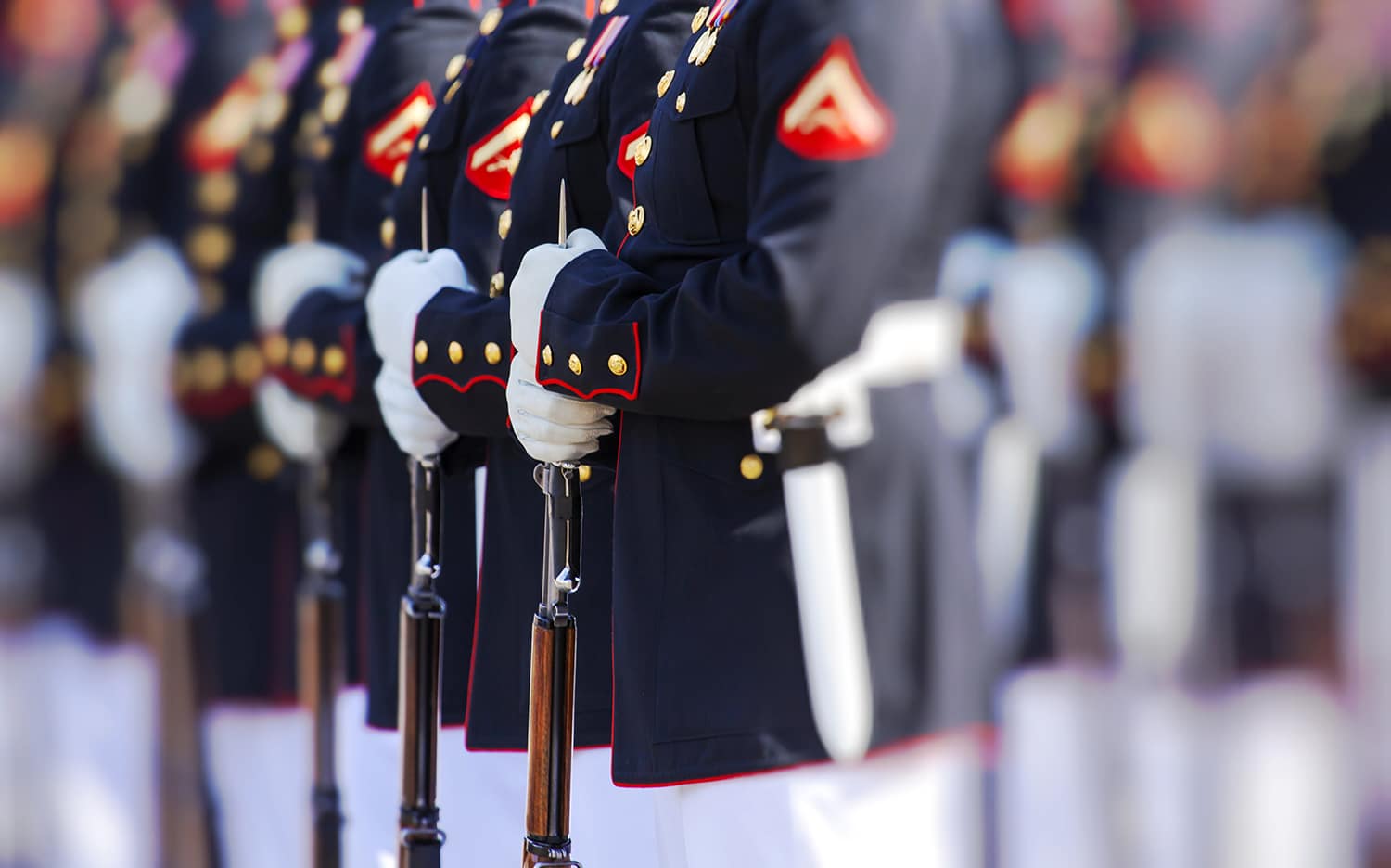 The positive relationship with the chaplain means that the Jacobs and leaders of other ministries are invited to share about the importance of discipleship in front of the entire Marines Officers Candidate School and hundreds of Marines as they start their training cycle at The Basic School. This comes full circle, as the Jacobs invite the base chaplain to a celebration dinner in their home as they send off Marines they have discipled who have completed their training before they move on to their next assignment.
A previous chaplain at Quantico shared about the Jacob' ministry: "I can't thank Michael and Velma enough for all the ministry they are involved in the name of Jesus Christ; for His people and the unreached alike. They go over and beyond what they have been called to do and whom they have been called to serve in the military context. True minister of ministers! Their edifying words and encouraging prayers have lifted me so many times during my three years of tour at the Marine Corps Base Quantico. They have a very clear vision and understanding of the Command Religious Program. Michael and Velma are a hugely important godly asset for this base and its entire Religious Ministry Team."
While the young men and women engaged in training may spend only a short time at Quantico, they are part of the Navigators Military network and can take what they have learned about disciplemaking and leadership on to their future assignments throughout their military career. Lifelong relationships and networking of Navigators Military between different assignments is a distinctive of the ministry, so when disciplemakers move on to their next assignment or deployment, outreach and spiritual growth continues.
Relationships continue over decades as they intentionally invest deeply in people's lives with whatever time they have with marines.  Michael lived with and was discipled by a couple, Joe* and Julie*, years ago, before he and Velma got married. In the past year, Michael has had the privilege of discipling their son, James* while he has been training with the Marines at Quantico. Michael and Velma have known James since he was a baby—so it was especially hard for them to say goodbye to him this summer as he left Quantico for his next assignment at Camp Pendleton in California. But the generations of disciplemakers go on, because Michael knows that James will continue to grow and lead, as he will be serving under an officer at Camp Pendleton whom Michael also discipled. 
Sometimes Michael meets people before they even arrive at Quantico for training. A Navigators associate at Virginia Military Institute introduces him to those who are headed to the base for training. Five years ago, Michael had the opportunity to email and talk to Sam* before he even arrived at Quantico. After training as a Marine and growing as a disciplemaker, Sam and his wife were assigned to Camp Pendleton where he continued his military service and also continued to follow Christ. He is now responding to God's call on his life at seminary as he prepares to become a military chaplain. What a great opportunity the Lord opened up to invest spiritually in service men and women.
Life-to-Life® discipleship continued online during the pandemic, but recently Michael was able to meet in person with a Bible study on base, taking appropriate precautions. Velma described the joy of that day, "Michael is a retired Marine, and he lights up on the days when he can go on the base and spend time with the Marines. He is energized by equipping Marines to grow in their faith and share about Jesus."
Praise God for how He is working in and through Navigators stationed near military bases all over the world.  Pray for those service men and women serving our country that they would come to know God personally and the power of peace and protection only He can give. 
*Names changed.
The appearance of the US Department of Defense (DoD) visual information does not imply or constitute DoD endorsement.