One week after Tilon and Caitie Pervenecki married, Tilon's grandfather suddenly passed away. He was known as Opa, German for "grandfather," because he had lived in Germany until 1982. That's when he immigrated with his wife and daughter (Tilon's mother) to the United States.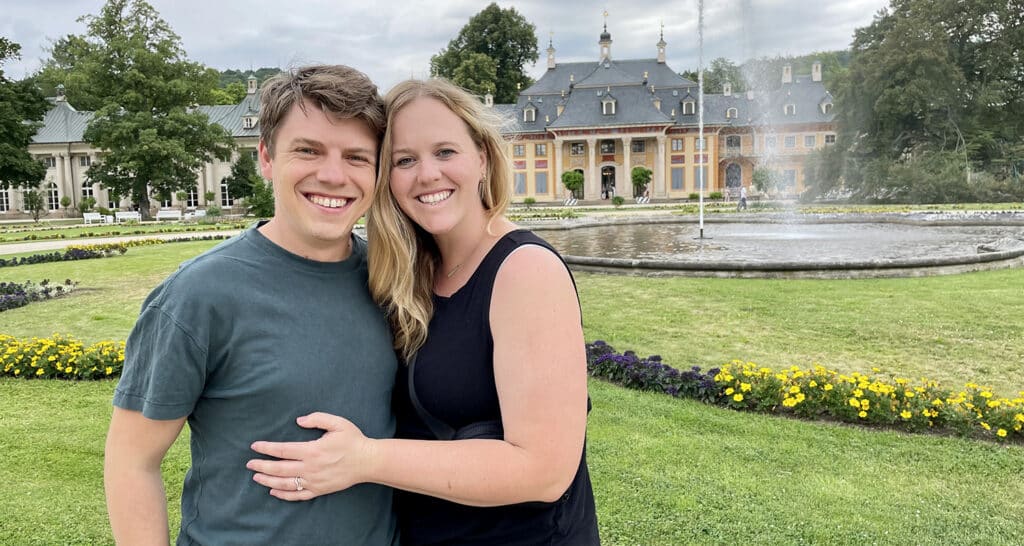 While exploring his things, Tilon and Caitie discovered The Wheel Illustration by The Navigators and a discipleship plan, both written in German. Tilon's Opa had worked with Youth For Christ in Germany for decades and even traveled and preached the gospel in more than 100 different countries. 
These discoveries prompted the couple to pray about next steps in serving with The Navigators and looking at ministry opportunities in Germany.  
"We knew we would finish Navigators Staff in Training in San Diego soon and then be placed in our next assignment for ministry," Caitie says. "We wanted to see if there was a need in Germany. After visiting The Navigators World Missions page, we noticed the top job listing was for campus ministry in eastern Germany."  
They learned from colleagues that only 4 to 6 percent of Dresden's population claim to be gospel-believing Christians. Eighty percent of the population consider themselves atheist or nonreligious. 
"These statistics are staggering to think about," Tilon says. "In our conversations about marriage before we got engaged, we said if God called us overseas, then we would be willing to go, but 'someday' came a lot faster than we thought."
December marks eight months in Dresden, Germany, for Tilon and Caitie, Navigators staff for the campus ministry at Technische Universität Dresden (TU Dresden). While there are other student-led ministries on campus, The Navigators is the only staffed ministry. 
Tilon and Caitie join a small Navigators team and 15 students involved in campus ministry. Currently, they're focused on connecting Navigators students with international students through a German-learning café started by The Navigators. 
"Many of the international students aren't believers," Tilon says, "but they consider The Navigators a family." 
Building Community on Campus
Their fall ministry launch didn't go as planned since Tilon and another teammate were sick for the first Navigators Night, a gathering of The Navigators community from TU Dresden. Despite the sickness, Caitie saw how God answered their prayers for more students. 
"We prayed for God to bring students to our group, even ones we had never met," Caitie says. "Tilon specifically prayed for five new students to come this semester and so far we've had eight new students. Some came with friends who have been a part of The Navigators and others heard about the group and wanted to check it out."
As the group studies the book of Ephesians, the theme for their times together is "Mittendrin nicht allein," which means "with one another, not alone." Their goal is to emphasize the purpose of community and how it's connected to our identity in Christ, as described in Ephesians. 
This was the theme of Tilon's first Navigators Night talk completely in German, which encouraged the students that because our identity is in Christ we can live this out together, as a community. 
Tilon and Caitie continue to pray for at least five students to stick around and be a part of this ministry at TU Dresden. They have also been praying that discipleship relationships would form and see God providing opportunities. Tilon meets with two guys for what they call "Zweierschaft," which means "a two-ship" in German. It's how the Navigators ministry in Germany refers to discipleship. 
"These guys are both excited to meet with Tilon and grow in their faith," Caitie says. "I've become friends with a woman from Ghana who attends a different university in Germany. She has also expressed interest in meeting with me for discipleship."
While adjusting to language and culture continues, Tilon and Caitie are preparing for more changes as they welcome a baby into their lives in May 2023. 
"We're trusting that God will get us to where we need to be with the language and everything else," Caitie shares, "so we can deeply invest in the students."
Pray for Tilon and Catie to continue reaching and discipling those in their ministry.  
Discipleship Tip:  
Sometimes your next discipleship step may look different than you had planned. Pray for the Lord's direction and the eyes to see the opportunities He provides.