The idea of a Navigator Home was created by Dawson Trotman in 1933 when he and his wife, Lila Mae, bought a home in San Pedro, California, and dedicated it to full-time ministry. Not only did the house provide lodgings for servicemen away from their base, but the couple used it as an opportunity to intentionally disciple those that lived with them, building a space that was a breeding ground for ministry.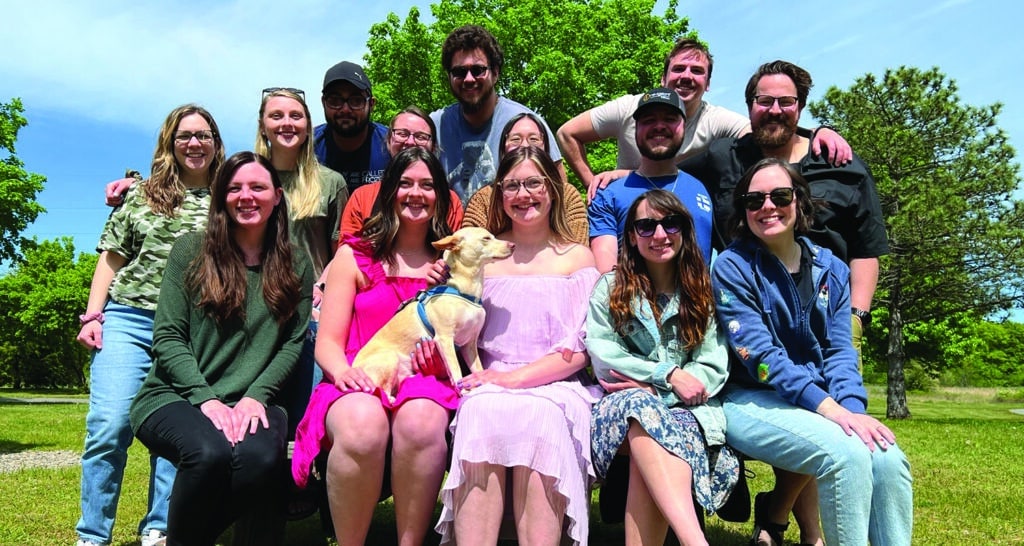 For Jason and Taylor Preckel, the original Navigator Home has become an inspiration for their own ministry today. Living in Albany, New York, the Preckels have opened the doors of their home to invite young adults to live with them and pursue Life-to-Life® discipleship.
Creating a Space for Life-to-Life Discipleship
Long before they started discipleship at home in Albany, Jason and Taylor had both experienced the impact of intentional, Life-to-Life discipleship firsthand while living in Savannah, Georgia. Taylor had been discipled by her cousin, Ashley, who was involved with the Navigators Collegiate ministry, and she eventually moved into a girls ministry house on campus. Meanwhile, Jason was being discipled by Navigators Military staff Cecil Bean and John Kreitzer, with the latter going as far to invite Jason to live with him for a year.
"When John moved me into his home, he pitched it like this," Jason recalls. "'If you want to be like someone, you've got to get around them. The more time you spend, the more exposure you can get to their lives, the better.'"
The experience of being intentionally invested in spiritually gave both Jason and Taylor a heart for deep, relational discipleship. After they got married, they were involved with the Navigators Collegiate and Navigators Military ministries in Savannah. However, after five years, they moved to Albany to build a ministry. Jason had previously lived in Albany before moving to Savannah, and he had struggled to find discipleship training there. Now, the Preckels wanted to create a space in Albany to grow and train disciplemakers.
In Albany, Jason started working for the post office and Taylor got a job as a teaching assistant. However, much of their time was spent getting involved in their church's young adult ministry. "We wanted to find people who were interested in going deeper in their walk with Jesus, wanting more than simply showing up to church on Sundays," Taylor remarks. "We were committed to finding individuals that wanted to walk with us through life — who we could help grow to a place where they could help others."
Investing in Spiritual Generations
It didn't take long for those very people to start coming out of the woodworks. Taylor started inviting girls to read the Bible with her, and one girl — Abby — started showing up every day. Seeing Abby's desire for growth, Jason and Taylor asked if Abby and her sister wanted to move into their house to do real Life-to-Life discipleship.
The girls said yes and moved into the second story of the Preckels' home. But the ministry didn't stop there. Eventually, Jason and Taylor converted their two-story garage into a bachelor pad for four additional guys to move in as well. Now, they are intentionally pouring into a dozen young adults on a regular basis.
"We're trying to help them with learning how to meet the needs of others, how to help someone read the Bible, learn to pray, and walk through the things in their life," Taylor says. "It's not just discipleship for them, but it's investing in leaders who can help the next generation as well."
Now, the young adults they are discipling have begun to pass on what they've learned to others. Abby is now leading Bible studies and meeting with other women to help them grow in their walk with Christ. Another girl, Kara, has discovered her heart for investing in others and took another girl under her wing, teaching her the basics of the faith and baptizing her last semester.
"God started exponentially growing our reach to the point where we've started to see The Navigators' addition versus multiplication concept played out," Jason says. "I'm discipling John, and John is discipling Nathaniel, and Nathaniel is investing in a myriad of dudes. Taylor invested into Abby, who's investing into Emmy, who is now following up with other women. It's happening in day-to-day life because you're willing to live your life around other people."
How Doing Life Together is Discipleship
1 John 1:1 says, "That which was from the beginning, which we have heard, which we have seen with our eyes, which we looked up and have touched with our hands, concerning the word of life" (NIV).
For Jason, 1 John 1:1 is the basis of how they live out discipleship through their home and community. "We wanted our lives to be something that people could touch with their hands in order to see how we were doing discipleship," he says. "Opening the doors to say, 'Hey, come into my home.' There's something about simply doing life together where a lot of things can be caught and taught."
As the Preckels continue their ministry, you can come alongside them and support them in prayer. Pray that they continue walking with the Lord and following His lead as they build their home in New York for ministry, and that those they are training are equipped to continue spreading the gospel for generations to come.
"That's what we are praying for in Albany," Taylor says. "We want it to be a place where people can come and receive the help and growth that they need to go and make disciples, wherever they go."
Discipleship Tip:

Sometimes discipleship at home can be more challenging because you see those you live with on good days and not-so-good days. Find one way to encourage someone in your home and even offer to pray with them. See how they respond and use it as an opportunity for more conversation and intentional connection.
Are You An Alongsider?
Do you desire to come alongside someone like the Preckels? The "Alongsiders: Life-to-Life Discipleship" FREE resource unpacks how Jesus and the apostle Paul lived out Life-to-Life discipleship.
Click the link below to download your copy of and be encouraged and equipped to take your next step as a disciplemaker.