International students come to the United States pursuing different degrees, for varying lengths of time, with a range of English levels. But they all have something in common: they have left what is familiar, and they want friendships in their adopted home. It is a joy and privilege to come alongside these international students and see God work in some of their lives while they're in the United States. The relationships formed during this developmental time for these students do not need to end when they return to their home countries; they can continue!
I met Eun Son when she was pursuing her Ph.D. in economics at University of South Carolina (USC). She was already a follower of Christ when she came to the United States. We formed a deep friendship during her six years at USC, meeting regularly for discipleship. Eun Son also joined our family for meals and family events. When Eun Son graduated, she put her graduation cap on my husband, David, which was symbolic of the fatherly figure he had become to her.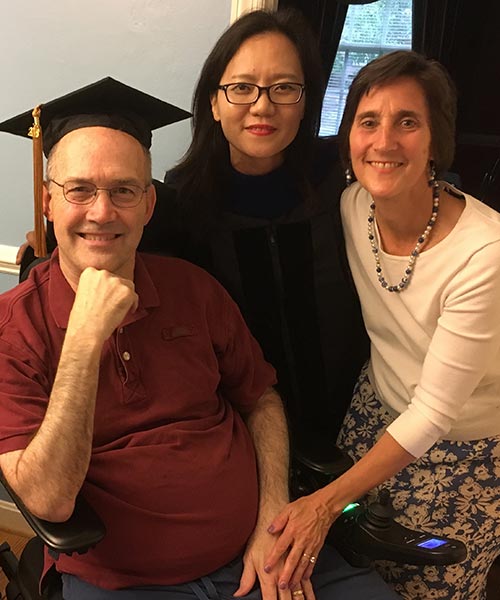 Eun Son returned to her home country, South Korea, three years ago and is now a professor at her former university. We continue to meet together on Zoom regularly for prayer and Bible study. Eun Son shares about our ongoing relationship: "Even though I am back to Korea, the friendship with June continues, which is so precious to me. I can share everything in my daily life with June, and even what I cannot share with my family members and friends in Korea. Also, June has helped me to grow by following God. I hope that I can be like June to reach out to international students in my university."
We regularly pray for her life to reflect Christ to her students and be a light among the faculty.
Recently a Navigator staff in South Korea contacted me, saying one of her students would soon come to University of South Carolina. She asked if I could help this student in his transition. This Navigator staff lives in the same city as Eun Son, so I was able to connect them. Praise God for providing this connection with someone in her town and for the network of disciplemakers across the globe!
Praise God for life transformation through Navigators International Student Ministry. Pray that students who return to their home country will transition well and find ways to continue to live out their faith.