Narrowly missing death twice, Abbas finds true life
Growing up in the Middle East
My father provided for our family, but he was entirely focused on his business. Eventually he was put in prison because of a bad business deal. Prison was a dark, desolate experience, but God used the darkness to speak truth and light to my father. When he came home he was a changed man from the inside out! It showed in how he treated his family and anyone else who came across his path.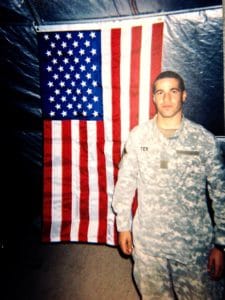 When I was 18, I had to join the military. One day, I was put in position on the opposite side of the American troops, I struggled to follow through on orders because I didn't want to harm the Americans. I laid my weapon down and left my post. The commanding officer was irate! I knew that I could be hung for desertion, but for some reason I was pardoned. I knew God had spared my life for something bigger.
Eventually I had the opportunity to work as an interpreter for the American military. I was eager to help in this way. I soon was moved to the SWAT team and went out on several missions. One day we were on street patrol. I saw a suspicious vehicle moving my direction and I motioned it to stop … but it continued. I was forced to draw my gun when the car wouldn't stop. I shot the driver in the arm and the entire car blew up; it was loaded with explosives! I was thrown by a curb with debris and bodies falling around me. Yet, I was unharmed. No one else survived. God spared my life a second time.
Two years later, I received a call from my family saying that my father had been shot [and killed]. This made me think of all sorts of questions about God.
My father's death was a turning moment in my heart and I began asking people in my troop if they knew how to read the Bible. I wanted to learn more about the God my father talked about after his release from prison. Most of the soldiers didn't actually read their Bibles, they just carried them in their pockets for good luck. Except Scott, I noticed he always had his Bible out and actually read it during breaks.
— Abbas
How I met Abbas
I was raised in a Christian home, but I grew in my faith and learned how to influence people for Christ when I was discipled by John Snyder and others involved with The Navigators at Fort Bragg. When I was deployed, I asked God to use me in a mighty way. After I arrived, I prayed for 10 months to start a Bible study with those in my unit. But no one was interested, until I met Abbas.
I always carried my Bible around in my cargo pocket. During my deployment, we patrolled various cities, conducting raids and responding to hostile fire. When we had downtime, I would pull out my Bible and read.
— Scott
The continued story of discipleship
Abbas recalled, "I asked Scott if he believed Bible was true."
Scott responded, "Yes, I believe the Bible. Would you like to read it together?"
Abbas was ready to learn the truth about God and they began studying it together. Abbas asked Scott many questions and Scott patiently walked through each question, showing what the Bible says and how it applies to real life.
Scott knew that Abbas had experienced pain with the death of his father, and he encouraged Abbas to seek refuge in his Heavenly Father. Eventually, Abbas made a decision to follow Jesus!
After deployment, the U.S. government invited some of their trusted interpreters to come to the States. Abbas was grateful to have this opportunity. He was still growing in his faith but knew this was one of his dreams. After Abbas moved to the States, Scott and his wife invited Abbas to live with them, at Fort Bragg, until he got on his feet. He lived with them for a year, which established a solid foundation of learning more about the Bible, growing in his relationship with Christ, and learning how to share about God with other service men on base.
After a season of being discipled by Scott and other Navigators, Abbas eventually got married and now has a young son. Abbas's first priority is pouring into his family, and second is his deep commitment to sharing Christ with those around him—neighbors, co-workers, and men and women in the military. He also has a speaking ministry, sharing his testimony and explaining how God is in control and has a plan for each of us, even when life may seem hopeless.
Check out what God is still doing with each Navigator in this story:
Abbas: hameedchristianministries.com
John Snyder, Navs Military at Fort Bragg: navgift.org/snyder
Scott Young, Navs Military, Germany: navgift.org/young
Navs Military