By Rex Hausmann
When I visit Brooklyn, I usually end up at a wonderful donut shop with my friend Don, an artist who lives in the neighborhood. One morning, while enjoying a cup of coffee there (not a donut, as I am trying to watch what I eat), I remembered an idea that had come to me as I prayed: Give thanks with art and help someone. Paint every day that you are in New York.
It was Easter Sunday. In the display case I saw the most beautiful tray of donuts I've ever seen. It even featured donuts decorated with miniature Peeps.
I began sketching. The owner's daughter saw me and asked if I was an artist. Don replied, "Of course he is. You should see his paintings!"
"Do you like my artwork?" I asked. She said she liked it very much. I thought, why not paint their front window to say thank you to the community? Besides, as an artist who specializes in fine art, the opportunities to show my work are somewhat narrow. Painting a window sounded like fun.
The owner asked how much I would charge to do a mural on the front windows. I knew my regular prices would be way out of range, so I just said, "As long as you provide the paint, I'll come and paint." I promised to come back the next day around 2:30 p.m.
The family wasn't sure if I was going to show up. I showed them a little concept sketch for the window. I could tell they were worried—they had never dealt with me before, and they didn't know what I wanted other than to paint.
I showed up at 2:30 p.m. sharp and started to work. I saw the owner watching me on the security monitor as I painted. He was smiling. When I was about halfway through the mural, he brought out his iPad. He was FaceTiming with his family: his wife, son, and daughter were on the screen. They loved the mural! "He paints so fast!" they said.
Later in the day his six-year-old son and teenage daughter came and helped at their dad's shop. The little boy helped me paint sprinkles on the donuts. He declared, "I'm artist number one and you're artist number two. I'm the master artist!"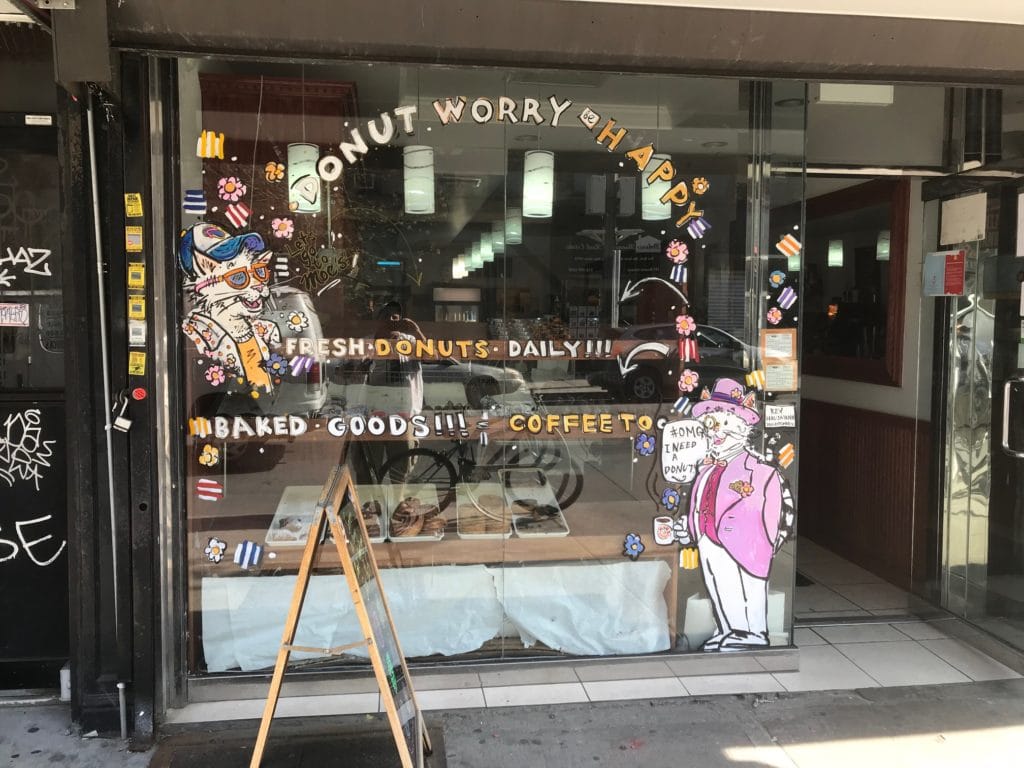 I responded, "Well, you're the boss!"
When I was done they asked for one more favor: Would I paint a DNA molecule on the board for the daughter's science fair project? It was the end of the day and I was tired, but I did, and I enjoyed it very much.
When I was done, the donut shop owner, smiling ear-to-ear, asked, "How much do I owe you?"
"You don't owe me anything," I said. "I wanted to paint and that's exactly what I did. Consider this an Easter gift to you and your family. I'm visiting from Texas, and I just wanted to paint every day I was in New York. You helped me do that."
He responded, "I'm a Muslim—I must pay you. It's part of who I am."
"This is a gift," I said. "God is good and I love painting every day. A doctor in Texas just bought a very large painting of mine, and a few friends have bought smaller works recently, so this is my gift to you. If you'd like to thank anybody, thank them, because that's why I can do this."
He was beyond excited. His daughter gave me the biggest box of donuts I'd ever seen. I took them back to Don's apartment and shared them with Don and his roommates. It was a great day in Brooklyn.
Painting for this family was a random act of service. Since then I've gone on to paint three more windows for this donut shop, and another one is in the works. It's not something I can do very often. But I'm so thankful for this opportunity to be generous—to do what I can when I can.
Rex Hausmann is a San Antonio artist involved in Via Affirmativa, a Navigator ministry that celebrates beauty, affirms artists, and engages communities for the sake of the gospel of the Kingdom.
What ways can you give it forward? Whether it is through art, words of affirmation, or acts of service, you can show God's love in a tangible way to those in your sphere of influence.