There is always a high level of excitement and energy for day one of an Eagle Lake On Location day camp. For summer 2020, the enthusiasm was even higher for many children, as they had been separated from their friends and in remote learning for the last quarter of their school year in many parts of the country. Parents were grateful for a safe, positive place for their kids to learn and grow for the week.
 As teams of Eagle Lake On Location staff fanned out across the country for week-long day camps at 19 sites around the U.S., local churches were eager to host this outreach for children and families in their neighborhoods. In addition, local teen and adult volunteers supplement the Eagle Lake staff to give personal attention to kids. More than 2,000 kids attended an Eagle Lake On Location day camp in 2020, hearing about the love of Jesus and seeing it lived out in the host churches and staff.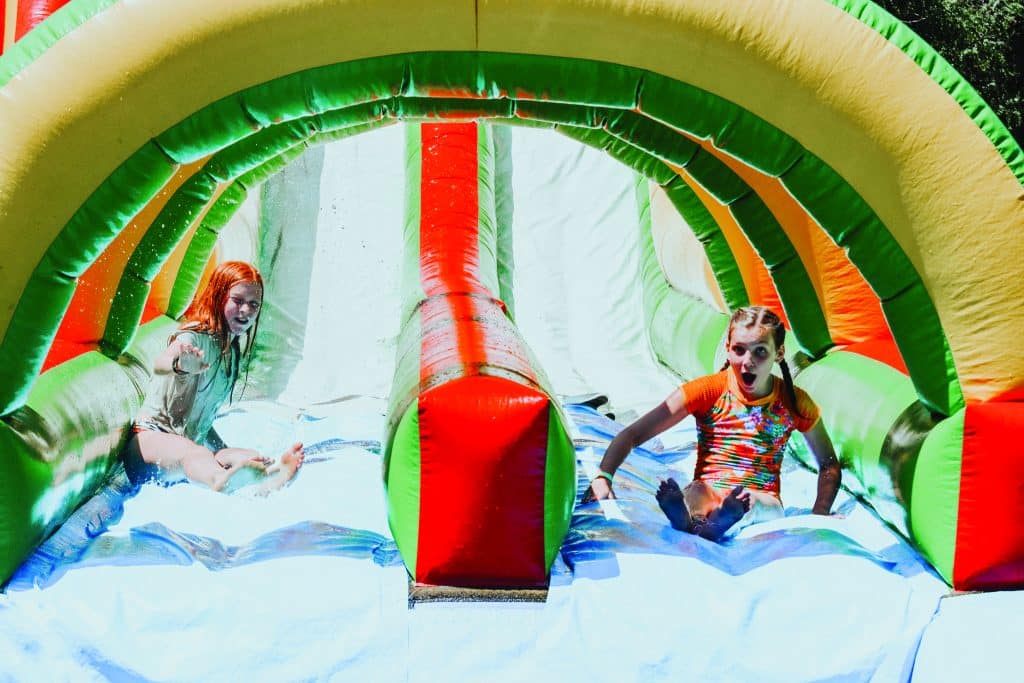 Connecting In Relationship
Rocky Mountain Calvary (RMC) church in Colorado Springs sees the Eagle Lake On Location day camp as an extension of their ministry to families in their community. Located at a busy intersection near several large apartment complexes, RMC hosts barbeques with music and games at the apartment complexes to build relationships in the community and offer a bridge to their neighbors to engage in a positive way with the church.
RMC has hosted an Eagle Lake On Location day camp in July for the past four years. Dan Johnson, missions pastor, was previously on staff with Eagle Lake Camps and knows that the week provides more than fun and games for the kids. The trained staff share the Good News of Jesus' love in a clear way with campers, so even those with no previous knowledge of God can learn about His love and redemption in an age-appropriate setting.
Of course, the Eagle Lake inflatable slides, climbing wall, and other visible attractions provide the fun factor for a week of summer, especially for kids longing for in-person connection in a safe environment. For families on a tight budget for summer fun, RMC and many other Eagle Lake host churches are generous with scholarships so that everyone can participate. With a capacity of 150 kids for a week of day camp, RMC sets aside 50 spots for kids from the local apartment complexes, another 50 for local ministries they partner with, and 50 for kids from their church.
Neighbors and Friends
After serving on Eagle Lake Camps staff for more than a decade, Sean and Andrea McKelvey transitioned to Navigators 20s and moved their family into their current home a few years ago. As they disciple young adults to have meaningful relationships and be outreach-oriented where they live, work, and play, the McKelveys live this out in their own neighborhood. Developing a connection to families is natural as their own children play with friends.
As relationships with parents and kids have grown over the past few years, the McKelveys realized that the next step for some of the kids in their neighborhood could be attending an Eagle Lake On Location day camp. Their own kids were going to attend the day camp, after being heartbroken at the cancellation of the Eagle Lake residential camps in 2020. Sean reached out to Dan at RMC and obtained scholarships for the neighborhood kids who wanted to attend camp.
Ted* and Karen* had just moved into the neighborhood before summer started and connected with the McKelvey kids. So, Sean asked their parents if they were interested in having Ted and Karen attend camp, along with other kids from the neighborhood. The family declined the invitation, but the day before camp started, they changed their mind! Fortunately, the church made space for them.
Ted was put in a group with boys from the neighborhood and Sean talked to their counselor to let him know the relational connection. Ted, Karen, and the other neighborhood kids had a great week at camp, and Ted's counselor said he was quite open to the gospel. Since camp, Ted and Karen's family have started attending church.
Sean McKelvey highlights the personal connection that is so important in the ongoing ministry impact of a week at camp. "What is great about the On Location camps is the partnership between Eagle Lake, a local church, and people who are reaching out to kids in their community. We all work together to make an impact, and we see the unity of different ministries and people impacting a neighborhood. And because of the local connections, we have a chance to follow up on what happens at camp. I see Ted regularly around the neighborhood and can talk with him and encourage him."
What are some ways you can reach out to those where you live, work, or play? Whether you are single, married, or have a family, God has placed you in your community—how might He want to use you there? Pray for opportunities to build relationships this summer!

Praise God for the ongoing ministry of Eagle Lake Camps. Pray for summer 2021, that residential camps, as well as day camps, will transform the lives of young people and be a foundation for lifelong faith.
Visit eaglelakecamps.com for more information about opportunities in summer 2021.
*Names changed.
---
Life transformation is happening in towns and churches of all sizes!
To bring Eagle Lake Camps to our community, we partnered with another church in the area. It had never been done before but together we were able to reach a wider community. Seeing our sanctuary packed with families at the festival made my heart swell. Rural churches have the habit of thinking they're too small to make a big difference and so having my church leadership see that we can and did make a difference in the lives of these families did a lot for them.
—Rebecca, Missouri