Four years ago, the Iowa State Marching Band was a dark place – very few band members would have identified themselves as followers of Christ. In August of 2012, a spunky redheaded freshman named Katie joined the saxophone section. Through time in the Scriptures and development opportunities with Navs, Katie's heart began to break for her friends. As she prayed, a vision grew inside her to believe God for a generational movement of the Gospel in the marching band.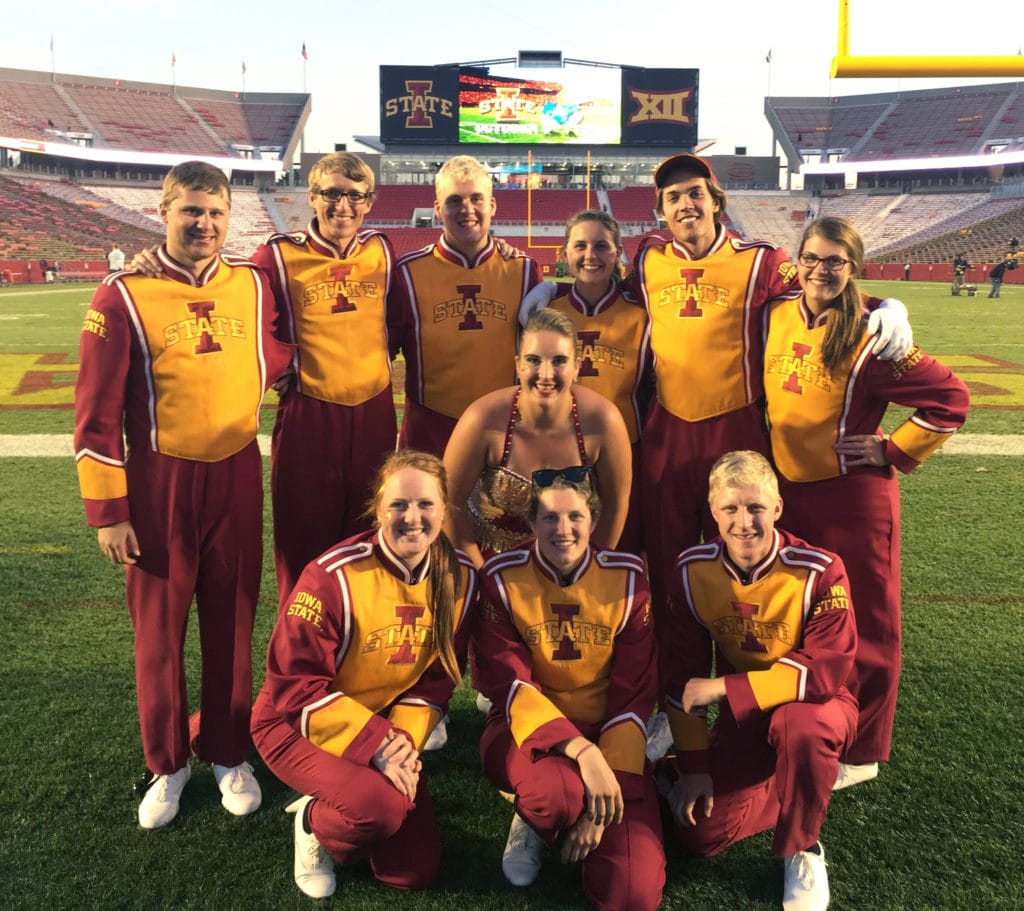 Katie's sophomore year, she started a Bible study on her own with women in the band, many not yet believers. She loved deeply, invested deeply, and persevered through the loneliness. Jess, who's on staff with Navs, began to disciple Katie that winter, encouraging her in her walk with Christ and helping her develop as a disciple-maker and leader. The following year, Katie began to see "springs in the desert" bubble up as God worked through her life and formed a ministry team around her made up of other band students (pictured with Katie on the lower left).
"I will turn the desert into pools of water, and the parched grounds into springs." Isaiah 41:18 
The band's ministry team members have been profoundly impacted by their involvement with the team and with Navs, and some are now passing on what they've received. One example of that is in Preston's life (Preston is a member of Katie's band team). In September, he met a tenor sax player named Will* who had never before read the Bible. Because of his friendship with Preston and others on the team, Will began to attend Nav Night. As his spiritual interest increased, Preston started spending individual time with Will, personally helping him get to know Jesus in the Scriptures. Later at our regional student conference, Will trusted Christ as his Savior and is continuing to grow! As a result of God's power and Katie's faithfulness, there are some new realities in the marching band…
Katie and 9 other Christ followers in the Marching Band ministry team meet weekly to pray for band students on their "impossible list."
20+ students on the "impossible list" have put their faith in Christ through Katie and her friends!
Over 40 students in the marching band are taking next steps with Christ through 5 student-led Nav Bible studies.
Rejoice with us at what God is doing in the marching band! Only our God can use one to bring forth many and cause springs to break forth in the desert!
*Name changed for privacy