As Chris looked at the photo, he couldn't believe his eyes. 60 students from Apple Valley High School (a public school) gathered at 6:30am before school for Bible study, of all things! God was growing something special!
You see, just a few months before, Chris had come home for the summer after his freshman year at the University of Minnesota with a new-found passion for Jesus. He had a dream and a vision to start a summer Bible study among peers and high schoolers in his hometown of Apple Valley (a Twin Cities Suburb). It started with a few people, but quickly grew to 40+ each week, and continued even as he left for college again.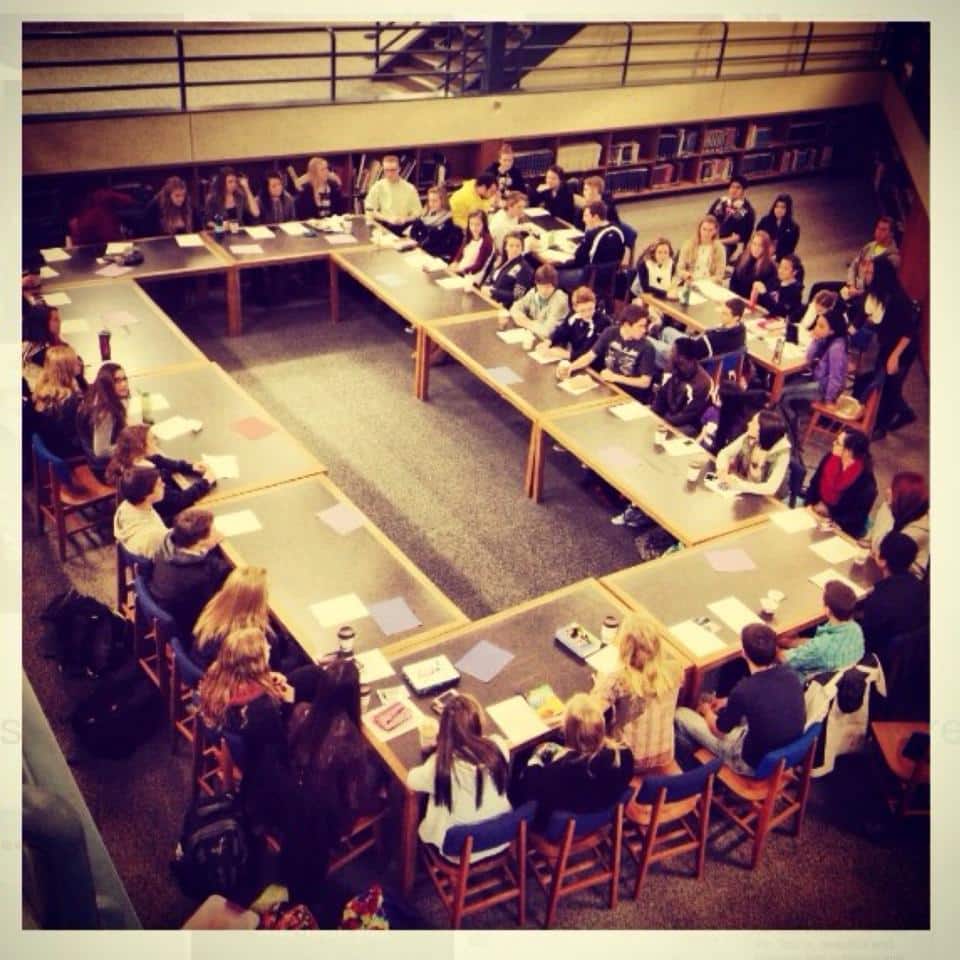 How did an ordinary college student like Chris come to be used by God in this way? Let's rewind.
It all started in the fall of 2012, Chris' freshman year at the U of M. Early in the semester, Cam, a buddy from the dorm, invited Chris to attend a Navs Bible study in Pioneer Hall. "I said yes, and it was one of the best decisions I've ever made," said Chris.
Chris grew up believing in God, but he describes his experience as empty and legalistic. "There really wasn't a passion for Jesus inside of me," he said. "However, through Navs I was constantly challenged in the Bible study and through fellowship opportunities, and over the course of the first semester Jesus became real to me. By winter break, my faith had grown into a wonderful relationship with Jesus, who I could confidently call my Lord and Savior!"
Alex, a senior in college, was Chris' Bible study leader. Alex invested in the Pioneer Hall guys through prayer, quality time, and digging into the Bible. Alex was discipled by me (Joe), and was being equipped as a student leader in Navs (now he is full-time staff!). This is one great example of how we see our vision for equipping student leaders playing out on campus. It has a strong impact!
Chris' life had changed dramatically. "Through this ministry I have been able to truly witness the beauty of 2 Corinthians 5:17 unfold: 'Therefore if anyone is in Christ, he is a new creation; the old has gone, the new has come!' I've been made new, and honestly don't know where I would be without you guys!" he said.
This spiritual awakening to Christ wasn't something he could keep to himself, either. "It changed my life, and I want to help other people find that same joy." On April 22, 2013, Chris shared the gospel with his 15-year-old brother, Jon, and he responded by receiving Christ. "It was one of the happiest moments of my life. Watching him grow over the past couple of months has been incredible," Chris shared. Soon after this, he launched the Apply Valley Bible study with his girlfriend.
God transformed an ordinary college student, and gave him a vision and a burden to see his family and hometown high school reached with the gospel. Praise God!