The name Eagle Lake Camps may bring to mind an image of campers paddling canoes and rustic cabins nestled among pines in the Colorado mountains. But Eagle Lake On Location brings the best of camp to kids in cities all over the U.S. Last summer the camp visited the sweltering streets of Compton, a neighborhood in Los Angeles.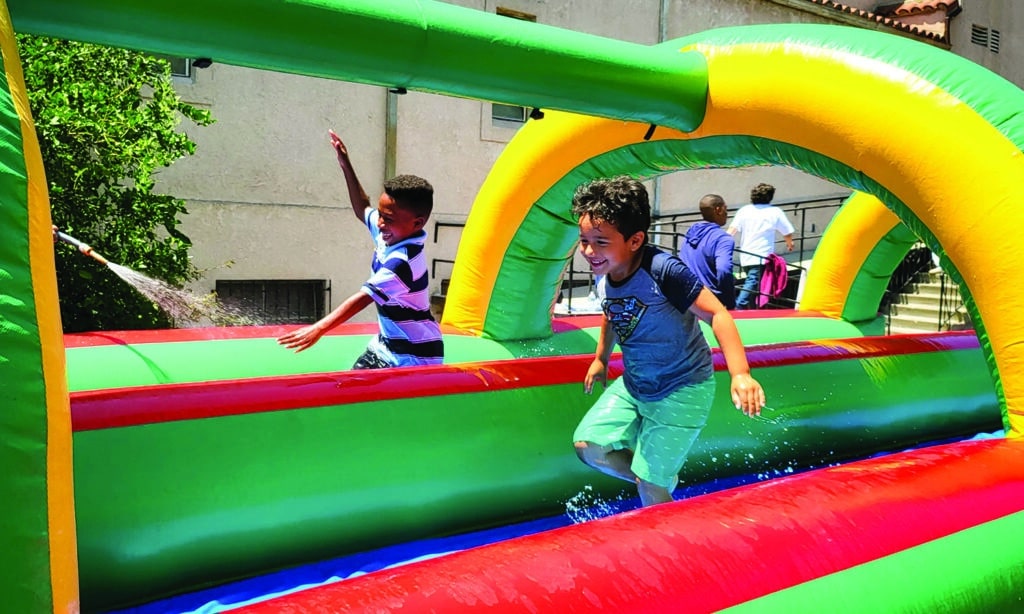 Eagle Lake staff hauled a climbing wall and a huge water slide across the Rockies to bring a new experience to the 70 kids, ages 6-12, who attended the day camp. Each morning of camp kicked off with a high-energy camper rally that included worship, skits, a short message, and general hilarity. The day continued with games and activities, Bible study in small groups, and, of course, fun playing on the climbing wall and water slide!
Eagle Lake On Location in Compton is just one of many day camps the ministry holds around the country. Program Director Shane Klackner reports that some of the kids who attend these camps are hearing the gospel for the first time. "I've run across kids who have never heard of Jesus," he shares.
Eagle Lake staffer Jason Gomez met a young Compton camper who grew interested in Jesus after he heard The Bridge Illustration, a Navigator discipleship tool for sharing the gospel. He "crossed the bridge," trusting Jesus for salvation! The next day he was full of questions for his Eagle Lake counselor, who confirmed that he is now a child of God. Jason saw him smile for the first time.
The camper was one of four kids who gave their lives to Jesus at camp!
Eagle Lake On Location partners with local churches, and Compton's was hosted by The Reformed Church of LA. The church hosted multiple years in partnership with The Navigators City Ministry of Los Angeles. Then LA City Director Armando Madrid asked, what if Eagle Lake ran the camp? So this past year the funds were raised to bring Eagle Lake Camp to kids in Compton, California!
Through the faithful financial partnership from Navigator donors the cost for Eagle Lake On Location in Compton was covered for kids to attend for free. Rudy Rubio, pastor of the Reformed Church, says, "The fact that there was not a financial barrier for our kids was great. To come into the community and not ask for anything—that helps people trust the church more" and consider getting involved.
Pastor Rudy is excited about the message the camp sent to the community: "We just want to love on your kids, teach them about Jesus, and bless them."
The gift of camp was a great way to open the door to kids' hearts about the love of Christ!
Discipleship Tip:

Sometimes discipleship benefits from thinking outside the box. Ask a friend how they best connect with God. Then find a way to do that together—maybe it's hiking; serving at a homeless shelter; listening to or even playing worship music; or inviting friends to gather for a meal and great conversation.
College Students Needed: Work for Eagle Lake Camps!
Know a college student looking for a fun summer job that makes a difference? Being a Counselor at Eagle Lake Camps gives you a summer that makes a difference in the lives of kids and in your life, too! Eagle Lake Camps has positions at their rustic, overnight property in the mountains above Colorado Springs and on their traveling Eagle Lake On Location Day Camp teams, who travel across the country to partner with local churches to bring the fun and experience of camp to communities across the U.S.
Click the link below for more information about a summer job you'll love with Eagle Lake Camps!