In the summer of 1953, a zealous young sailor named Clyde McGahee helped purchase Glen Eyrie as the international headquarters of the ministry that God used to change his life. Now 50 years later, Clyde has seen Glen Eyrie for the first time!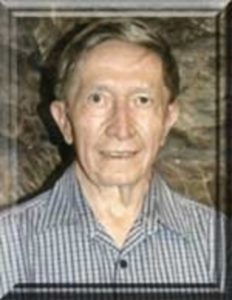 In 1953, a 22-year-old sailor named Clyde McGahee was contemplating his transition out of the U.S. Navy. But before he returned home to Georgia, McGahee—or "Mac" as his buddies called him—wanted to help find a home for The Navigators, a group of men that had changed his life.
McGahee had preached, taught Sunday school, and even directed a youth organization before realizing, in 1950, that he wasn't really a Christian. It took memorizing 88 verses of Scripture under the tutelage of Navigators to bring him into true relationship with Jesus.
"It hit me like a ton of bricks when I realized I had never asked Jesus to be my Savior," recalls McGahee, now 72. "I woke up my buddies and told them, 'I'm a Christian!' They said, 'We know you are, now go back to bed.' " Through the Navigator grapevine – active on nearly all of the ships in the U.S. fleet by this time – McGahee heard that his spiritual mentors were involved in a massive project back in California. Billy Graham had encouraged The Navigators to purchase a ministry training center in Colorado Springs. By the time McGahee's ship docked at North Island near San Diego, the fundraising had begun in earnest, and McGahee dived in to help.
First he gave his own money, then he began convincing others to do the same. He offered everyone he saw – soldiers, Christians, and people he bumped into on the street – the opportunity to invest in The Navigators' purchase of Glen Eyrie. "I had a real strong opening," he says, "because it was through The Navigators that I became a Christian. When people heard my testimony, they realized a lot of other people could be helped by The Navigators."
McGahee doesn't recall how hard he must have worked those six weeks in the summer of 1953. He just remembers people, himself included, being awestruck that so many gave so generously. "It was truly a miracle," he says.
Unfortunately, McGahee only got to hear about the miracle. By the time The Navigators purchased Glen Eyrie and began using the property as its ministry headquarters, he was out of the service and back in Georgia. He spent the next five decades working hard and raising a family, never finding the time or extra money to visit the place he helped purchase.
That all changed in spring 2003 when McGahee's daughter Tammie bought a new van. Now retired, he asked Tammie if she would drive him and his wife, Dinell, out to Colorado for a vacation. "It had always been on my heart to see Glen Eyrie, and this was my chance," he says.
Over Easter weekend, McGahee got his wish. Walking through Glen Eyrie, "I was amazed at how God had worked," he says. "It brought back so many memories."
When he found out Navigator founder Dawson Trotman was buried at Glen Eyrie, he put aside concerns about his health and the altitude and hiked the steep trail to Dawson's grave. "I definitely wasn't going to miss out on that," he says, fondly remembering the dynamic man who had ministered to him and other sailors in San Diego.
"For fifty years, I wanted to see what I had helped purchase," McGahee said as he sat in General Palmer's den last spring. "I see all the beauty of Glen Eyrie and wonder how anyone can say there's no God."
He was excited to get back to Georgia and tell other people about Glen Eyrie. Just like he did in 1953.