One party. Eleven hours. Three houses. Thirty-five students packed into living rooms and kitchens eating fajitas and playing games. "Mega Game Night" was the second event this semester hosted by Austin, a junior engineering major involved in The Navigators ministry at Texas A&M University. Interestingly, Austin (pictured with me – he's on the right) is a hard-core introvert who would prefer studying completely alone all day. Austin's quick to say, "I like being by myself."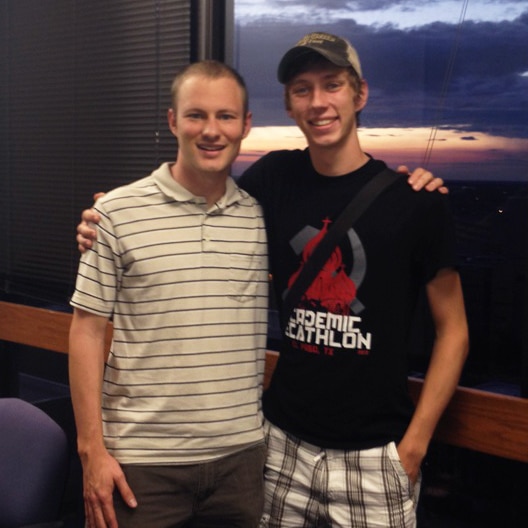 But to advance Jesus and His kingdom, Austin practices what he calls "submitting his personality." He said, "I have to live every single day in a way that's different from how I was born." I asked him why he doesn't keep to himself. He said simply, "Because Christ didn't sit in his room all day."
As people swarmed, I saw Austin warmly greeting guests and working behind the scenes. His face shone bright with energy to serve. I heard spiritual conversations over card games.
One student stepped outside and lit a cigarette. We started talking and I asked him, "What's your spiritual journey been?" His parents converted to Judaism when he was 15. "I just went with it," he said. As the conversation went on, I said, "I want to read the Bible with you." He declined. I pressed, "You've got to read John." He said something like, "Just tell me about John right here." I got to share Jesus while he smoked!
Afterward I asked Austin, "Was it worth it to [sacrifice] your introversion for this event?" He said, "I see the progress it's making for the kingdom, so it's all worth it."
It blows me away that Austin is willing to exert himself so fully in the hope that students will take even tiny steps toward Jesus. I will encourage him to respect and delight in the way that God created him, taking the alone-time that he needs and learning how to minister in contexts that don't drain him quite as much. But with the big picture of Jesus' beautiful and life-filled Kingdom in mind, I'm proud of Austin for being willing to"endure all things for the sake of those who are chosen, so that they also may obtain the salvation which is in Christ Jesus and with it eternal glory" (2 Tim 2:10, NAS).
This is the first installment of a four part series on the calling statement of The Navigators. Our calling is ​"to advance the Gospel of Jesus and His Kingdom into the nations through spiritual generations of laborers living and discipling among the lost."