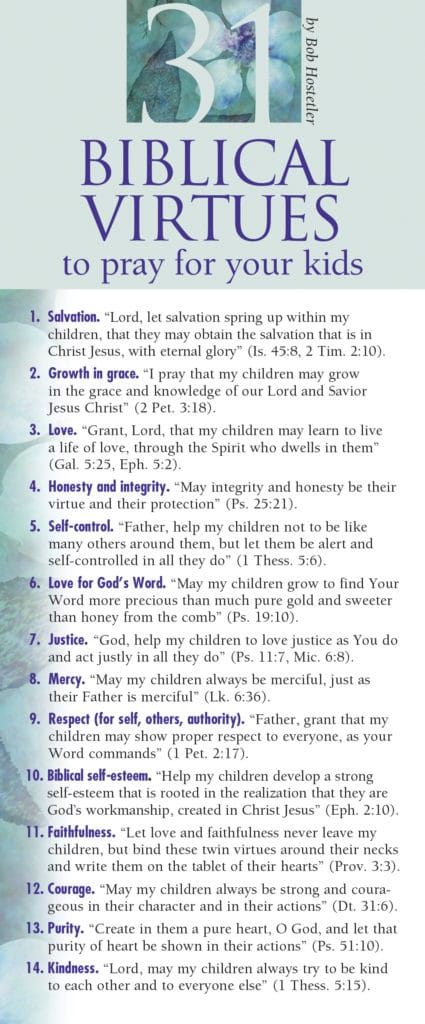 TITLE: Bookmark Prayer Cards
Buy Now
Strengthen your personal prayer time, encourage the church to pray, help those who are new in faith develop their prayer life, and revitalize ministries with large prayer cards! Prayer card guides provide biblically based areas of prayer for specific needs or groups of people. Printed on both the front and back sides, they give numerous precise topics of prayer supported with Scripture references. Measuring 3.5″ x 8.75″ (for most of them), these prayer cards are easy to read and are perfect for the placement in pews and display racks. Church members can easily keep them in larger size Bibles, on their refrigerator, or tacked to a bulletin board.
This sampler pack of 29 prayer cards includes the following:
– 31 Biblical Virtues to Pray for Your Kids
– 31 Ways to Praise
– Prayers for a Strong and Loving Marriage
– Scriptural Prayers for Your Finances
– Scripture-Based Prayers to Pray for Your Pastor
– Life-Giving Prayers for Your Church
– Powerful Prayers for Your Husband
– A Month of Prayers for Your Wife
– Prayers for Missionaries and Their Families
– Everyday Prayers for Your Spiritual Battle
– Prayers of Repentance
– Prayers for Healing Broken Relationships
– Scriptural Blessings to Pray for Your Children
– Prayers for Prodigals
– 12 Prayers for Christmas
– Blessings for Your New Year
– Christ in Christmas Advent Devotionals
– The Lord's Prayer for Kids
– Praying for Your Family
– Praying for the Lost
– Prayers of Hope and Wholeness for the Seriously Ill
– Partnering with God in the Struggle Over Sin
– Scriptural Prayers for the Next Generation
– Power-Packed Prayers for Public Schools
– Prayers that Birth Revival
– 30 Ways to Pray for People in Authority
– Personal Prayers from Colossians
– Prayers for Our Military and Their Families
– 25 Ways to Experience God
Product Details
Binding: Bookmark
Trim Size: 3.625 x 8.75 in.
ISBN: 978-1-57683-456-5
Thanks for your feedback!