Get more out of your daily Bible reading
Get your free eBook, How to Study the Bible!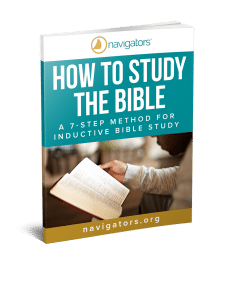 Studying the Bible helps to make passages come to life in new ways, it deepens your understanding, and it makes God's Word part of how you think, act, and live. But what's the best way to go about studying the Bible?
While there isn't only one right way to read and study Scripture, The Navigators have put together a resource outlining a study method that has helped thousands draw closer to the Lord through a deeper understanding of God's Word.
We'd like to share this proven system of study by giving you a free digital copy of How to Study the Bible: A 7-Step Method for Inductive Bible Study.
We hope it enriches your Bible reading immensely!
Just let us know where to email this free ebook, and we will send it to you right away.