Get your free eBook,
How to Memorize Scripture!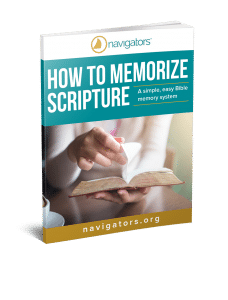 The Word of God is useful for teaching, rebuking, correcting and training in righteousness. Why wouldn't we want to memorize as much of it as we can? 
By hiding God's Word in our heart, we can make better decisions, combat temptation, and avoid sin. It's important to read, learn, and memorize the Bible. 
The Navigators have been helping men and women commit passages of Scripture to memory for decades. We'd like to help you do the same. 
Our Topical Memory System is a proven process of memorizing passages of Scripture that edify, encourage, and exhort you to live the best Christian life you can. Through this condensed eBook version of the Topical Memory System, you'll be able to store dozens of the Bible's most helpful Scriptures in your heart and mind. 
Now's the time to get started!
Just let us know where to email your free copy of the condensed eBook, and we will send it to you right away.