Hide God's Word in Your Heart!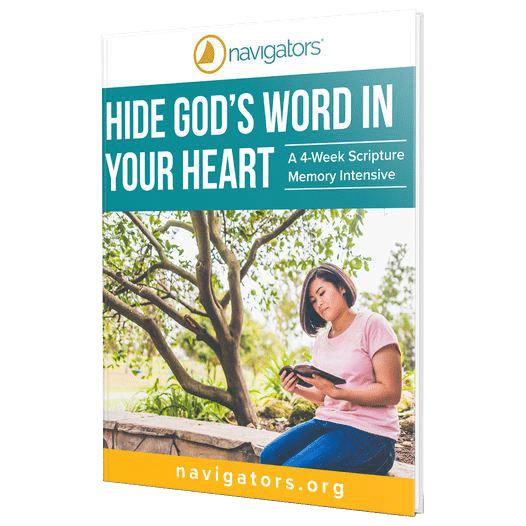 There are countless benefits to committing the words of the Bible to memory. When you internalize God's Word, you have instant access to:
Comfort in times of sorrow.
Guidance when you are feeling lost.
Correction when you veer off course.
Wisdom when you need to make a decision.
The Words of Life to share with others.
God's Word is a light to our paths and a lamp to our feet (Psalm 119:105)! It's important to carry this light with you by keeping it in your mind and heart.The Navigators have been helping people memorize Scripture since our founding in 1933, and we would like to help you memorize Scripture with this new resource. 
This brand-new eBook to help you commit four key Bible passages to memory. Each week for four weeks, you will focus on one verse, contemplating its meaning and reciting the verse repeatedly so that you internalize it and make it your own.
We're offering this new eBook, Hide God's Word in Your Heart, to you for free as part of our mission to help strengthen God's people and make disciples of all nations. We pray that it is a practical help and a blessing to you!
Let us know where to email this free eBook, and we will send it to your inbox right away!