Pray the Names of God This Month!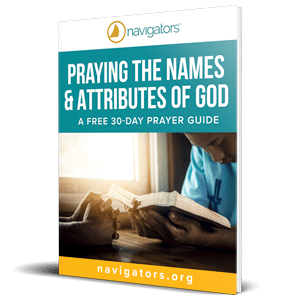 Spend the next 30 days contemplating the wonderful names and attributes of God with a new eBook from The Navigators.
Each day features one aspect of God's character to reflect on and pray about, along with a Bible verse to describe that characteristic. It's a fantastic way to learn more about the Lord and draw closer to Him.
Your devotional time will center your heart and mind on such attributes as God's love, wisdom, omniscience, faithfulness, and sovereignty as well as the various names for God found in Scripture, such as Jehovah-Rophe, El Shaddai, Elohim, and Adonai.
As you meditate on Him, your life will overflow with the joy, peace, and hope that He gives, and you'll want to share those gifts with those around you.
Get Praying the Names and Attributes of God sent to you today!
Just let us know where to email this free eBook, and we will deliver it to you right away.