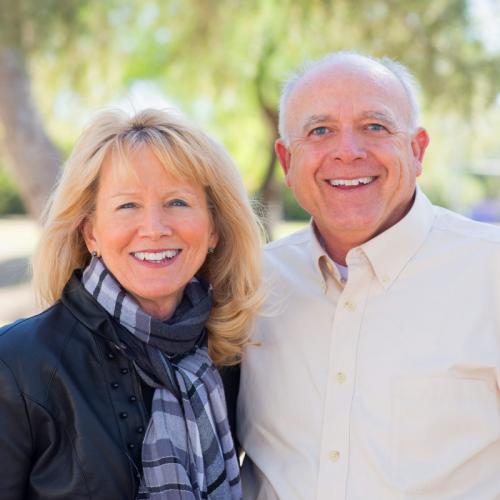 About Tom and Dana Yeakley
Tom and Dana Yeakley serve as staff equippers for next generation leadership couples. They build into the lives of emerging leadership couples, helping them thrive in life and leadership. These staff couples are primarily in the Collegiate and Nations Within Missions.
Tom and his wife Dana have been serving with The Navigators since 1978. They were involved in a collegiate couple's ministry at Purdue University from 1973-1981, church discipleship ministries in the greater Chicago area from 1981-1983, and then moved to Indonesia where they served in collegiate and community ministries from 1984-1994.
After returning to the U.S., Tom joined the U.S. Collegiate Leadership Team and moved to Colorado Springs in 1995. In February 1998, he was selected to lead the U.S. Campus Ministry and from March 2000 – 2003 was the Director of the U.S. Collegiate Ministry. He concurrently served as the U.S. Navigators in Leader Development which involved internationally coaching and developing leaders. He is also an associate for Leader Development Network, a leader development consulting firm.
Most recently Tom served as a US Field Director for the Nations, providing leadership for all US cross-cultural ministries and serving as a member of the US National Leadership Team.
Tom's primary passion is helping leaders live and lead like Jesus. He has authored several books, booklets, and magazine articles including: Growing Kingdom Character, Praying Over God's Promises, The Nuts and Bolts of One-To-One Discipling and The Four Alls. Tom was also the General Editor of the Collegiate Devotional Bible. His latest release by NavPress (2015) is Praying Over God's Promises, a book on faith, and taking God at His Word.
Dana served as an Associate Director on The Navigators Collegiate Leadership Team from 1997–2003 and with LearningRx as a trainer, account executive, and center director from 2003-2006. She most recently served on the Nav20s national leadership team. Dana frequently speaks to students and women's groups, and is also personally engaged in mentoring women. She is the author of A Woman's Guide to Discipling (NavPress 2010) and her latest release, The Gentle Art of Discipling Women (NavPress 2016) – a book on how to practically disciple another.
Tom has a BS. in Biology from Florida State University, a Doctor of Veterinary Medicine degree from Purdue University, and an MA. in Missions and Intercultural Studies from Wheaton College. Dana has a BS. in Elementary Education from Florida State University.
Tom and Dana were married in 1973 and have three married children (Michael, Amy, and Stephen) and seven grandchildren.
Updates
Praying Over God's Promises
The Lost Art of Taking Him at His Word
"The habit of regularly reminding the Lord of His promises to us in prayer will bring vitality to our prayer lives and…
Read More
Tom Yeakley on Growing Kingdom Character
Tom Yeakley and his wife, Dana, have coached and developed emerging leaders with The Navigators for more than 30 years—both in the United States and internationally. Tom's book, Growing Kingdom…
Read More