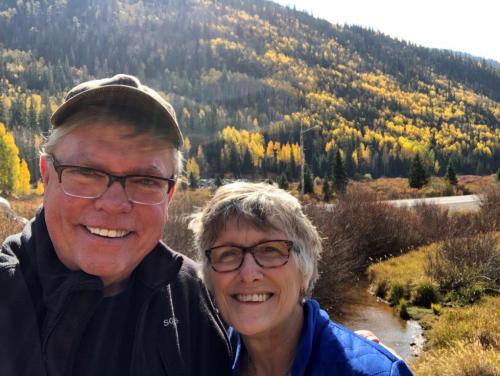 About Mike and Nancy Jordahl
Mike Jordahl serves The Navigators as a U.S. field director and as a senior vice president. In this capacity he helps oversee all U.S. Navigators ministries and specifically oversees five national Navigators Missions, each of which are part of The Navigators Lifelong Laborers Sphere:
Navigators Workplace – helping laborers for Christ serve him and reach out through their jobs and careers
Navigators I:58 – helping laborers reach people in the lowest socioeconomic conditions in our society
Navigators Neighbors – helping laborers reach out to others where they live, work and play
Navigators Church Ministries – helping laborers and local churches thrive in the ministry of making disciples and raising-up laborers in churches.
Navigators Encore – serving Navigator staff who are adjusting their contribution in light of their capacity and season of life
Mike has been a Navigator since his college days at Illinois State University. After three years of post-collegiate work, primarily in management positions, he joined staff in 1981. Mike has served in key Collegiate leadership roles, including U.S. Collegiate Director. He has also served on the Navigators 20s Leadership Team and Director of CityLife.
Mike and Nancy are passionate about empowering men and women to live intentional and missional lives that are rooted in having a vibrant relationship with God. They have three grown sons: Daniel, Timothy, and Peter, and a daughter-in-law, Beth, who is married to Peter.
Updates
Mike & Nancy Jordahl
Stoplight Update – December 17, 2018
Dear Friends,
Lately, I've been reflecting on Luke 1:38. The NIV is translates it this way: "'I am the Lord's servant,'" Mary answered, 'May your word to me be fulfilled.' Then the angel left her."
I want to do what Mary did:
* focus on my identity as the Lord's servant (I serve Him, not visa versa!)
* posture myself to see the Lord's word fulfilled in my life (Cooperate with & obey him.)
* remember that the Lord himself is always with me (The angel left Mary but the Lord has promised to never leave his followers!)
In this Advent season I pray you find time to read the Bible and hear the whisper of the Holy Spirit as he shines truth into your own life and realities.
Thank you for your prayers, encouragement and generosity to us and our ministry.
Mike J.
PS – We could sure use some help…
Will you please consider making a special year-end gift to help launch us into 2019?
We are sustained throughout the year both by generous monthly and year-end gifts from people who believe in the value of our ministry. Through the natural attrition of long-term supporters (death, job-loss & life-changes) our needs have increased. This year, we need and are are trusting God for $58,500 of gifts in December and January.
This link will take you to our Navigator Online donation site where you can make a secure online gift:
Invest in the Navigator Ministry of Mike & Nancy Jordahl Copy and paste this link in your browser -(https://donations.navigators.org/SpecialPages/DonorMaster/staffDonation?id=S39321|39321)
Some of our ministry partners like to give appreciated stock, instead of cash, to decrease capital gains taxes and get the charitable deduction. Others (over age 70.5) like to take advantage of the Qualified Charitable Distribution. For help in doing this type of giving, feel free to call our Planned Giving Team at 1-888-283-0157 or email mylegacy@navigators.org (mailto:mylegacy@navigators.org) .
Thank you in advance for any investment you can make in us and the ministry God has assigned to us!
UNL Sophomores
Nancy & I still love ministering to young men and women! A group of 16 2nd year students from the U of Nebraska brought dinner to our home a few weeks ago so I could share with them about living for & loving Jesus with all their hearts. I was inspired to see both the new believers and those from Christian homes yearn to know Christ and make Him known!
Leading from behind
I have a photo that was taken after a meeting I oversaw in late October, with leaders from our ethnic minority Networks. It's an accurate portrayal of the place I love being in The Navigators these days: standing in back and partially obscured!
Please keep praying:
1. Cultural Competence & Minority Ethnic Leader Development
Much work remains! I meet with key leaders today (Monday, Dec 17). Pray for protection from the enemy, for wisdom and courage to keep pressing forward in this critical area.
2. Strategy and Structure of Staff Development
Draft 6 is now being revised. We want to build a structure that will serve us for 10-20 years. Again, we need wisdom, courage and the ability to pace ourselves well.
3. Marriage & Walk
On December 18, Nancy and I will celebrate our 37th wedding anniversary! Pray for God's protection over our marriage, that we'll keep working at loving each other well and that God will be glorified by our love. Pray too that we will both walk closely with Christ every day.
4. Wedding & Christmas
Tim and Bethany's wedding will be on January 4. Ask God to protect them, help them develop good marriage habits early on and for him to be glorified by them. Our Christmas will be low-key as we prepare for this fun day.
Mike & Nancy Jordahl
Stoplight Update – November 16, 2018
Dear Praying Friend,
It is hard to believe that for over 37 years now Nancy and I have, as Paul referenced, "made our living from the gospel." (1 Corinthians 9:14). This time of year finds me reflective and thankful for you and others who have sacrificially given to us and our ministry over the years. My prayer is that we will be fruitful and effective in ways that glorify the Lord and give the Kingdom of God a good return on your investments in us.
I don't get tired of saying THANK YOU!
Your prayers, encouragement and financial gifts continue to empower us to do our part in advancing the gospel and kingdom of Jesus as we make disciples and lead in ways to help many others do the same.
May God bless you again and again,
Mike
Listen to a short message
Some of you have asked if there is a way you can listen to any of my conference messages. You might be interested in viewing this 12-minute Opening Message (https://vimeo.com/album/5523754) (God is Enough) that I shared at our 2015 National Staff Conference. In it I talk rather vulnerably about some of my journey and then offer some encouragement to our Navigator Staff that might also apply to to you.
NCM Conference
You may recall that I spoke at our Navigator Church Ministries conference a few weeks ago. Right before I launched into my message I took this panoramic photo. Only some of the people in attendance made it into the photo but you can get a sense of the pastors, Navigator staff and church leaders who were at this conference. My assigned topic was "Working Beyond Your Ethnicity" and most of my message was sharing my personal lessons on that topic. (If you'd like a copy of my notes, just email me and I'll make sure you get them.). Thank you for praying for me that weekend!
Please keep praying:
For the next month I am overseeing these two major initiatives and a handful of smaller ones. Even in the midst of planning and executing our plans I am convinced that PRAYING our way forward is more important than PLANNING our way forward.
Cultural Competence and Minority Ethnic Leader Development
Gifted leaders have been recruited to lead these initiatives and they are now working hard to move us forward. My job is to supervise, encourage and empower them.
Strategy and Structure of Staff Development
Lots of time, prayer, meetings and revisions over the next month on this!
Our proposed purpose statement:
"Helping you steward your professional development as a Navigator and your personal development as a Christ-follower through on-site, on-line and on-the-road opportunities."
Our target audience:
Navigator Representatives and Conventional Income Disciplemakers (maybe that includes you?!)
Show more