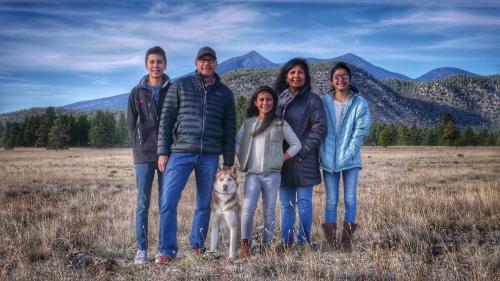 About Delphina and Tom Johnson
Johnson's Bio:
Delphina: While growing up in a rural part of the Navajo Nation, my world consisted of the Navajo traditional beliefs and my family. I came to faith in Christ while attending the University of Arizona. After graduation, I sensed God leading me back home to live among my people and serve them.
Tom: At the age of 24, I moved from Indiana to the Navajo Nation to teach high school. I was deeply immersed in the Navajo culture and community. This was a formative time for me.
Delphina and I met in a small Native church on the reservation and were married a few years later. Through our lives and ministry, God allowed us to impact a culture that has often struggled to accept the Christian message.
We became students of effective ministry among Native people. We asked ourselves, after 500 years of having the gospel, why do less than five percent of Native people identify as having a faith in Christ? Many Native people have difficulty getting past a highly contextualized Western gospel and church model. They believe that becoming a Christian requires forsaking their identity as Native people. Such feelings are rooted in centuries of flawed missionary efforts and tensions from historical events.
After we had ministered in communities on the Navajo Nation for 24 years, Navigator leaders believed that we were uniquely prepared and equipped to pioneer something new among Native people. Therefore in 2016, we moved to Flagstaff, Arizona, and became leaders of the Navigators Native Nations Network. This Network seeks to establish God's work in the Native Nations through generations of indigenous laborers living and discipling among the lost. Our current ministry locations and influences include Albuquerque, Phoenix, Arizona Collegiate campuses and, of course, the Navajo Nation. (There are 573 federally recognized tribes and approximately 5.2 million Native Americans within the United States.)
Since moving to Flagstaff with our family, we have pioneered a mentoring network called Native R.I.S.E. (Rising Indigenous Student Empowerment). This is a mentoring program for young Native adults and students in a culturally affirming atmosphere. It also provides a natural opening for sharing the gospel. This outreach is led by emerging Native leaders from nine different tribal backgrounds. We have the wonderful task of mentoring these amazing leaders.
Our prayers have been that God would bring the Native Nations to us, and He is doing that. In 1975, Billy Graham addressed a room full of Native American Christian Leaders: "You are a sleeping giant, the original American. You are now awakening. Just around the corner, you may become a spiritual superpower in this country that could change not only America but the world." We are hopeful in the Lord that this is the beginning of such an awakening.
Click Here to receive our ministry updates 
(Tom) 928-606-3541, (Delphina) 928-349-3991
Updates
Navajo & Hopi Elder Support Project
After two decades of living on the Navajo reservation, and raising our family there, we moved to Flagstaff, Arizona, four years ago to pioneer the Navigators Native Nations Network. When…
Read More